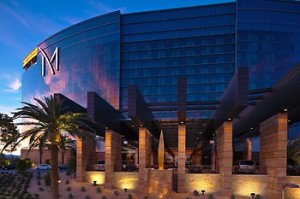 Situated 400 feet above the Las Vegas Strip, the 90 acre M Resort property stands as a crowning attraction in the hotel and casino city. Drive ten minutes south of Mandalay Bay to get a room or enjoy any of the amenities designed by Anthony A. Marnell III, who is a Las Vegas native.
The M Resort caters to other residents of Las Vegas and not just the tourist population. It offers ample parking and multiple entry ways so visitors do not have to walk far to reach their destination. For example, people getting a massage or skin treatment at the spa can park right next to it. Someone who wants to put some money on a big game can use the door nearest the sports and race book. The property even boasts a full-service gas station.
Marnell's attention to detail in designing the M Resort carries over to all the staff who are ready to welcome you to the hotel or casino. The hotel is fashioned from gleaming glass.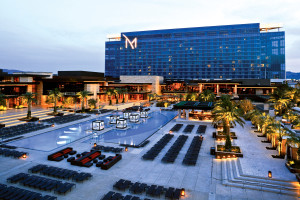 From the outside, it towers impressively over the city. From the inside, it offers stunning views of the surrounding landscape and the city below. The architectural design gives each venue inside a look at the Villaggio Del Sol Pool and the Entertainment Piazza. The spa features a full wall of windows. Many rooms and suites for overnight visitors feature stunning views as well. The outdoor terrace by the pool provides plenty of seating, so guests can rest outdoors and take in the surroundings.
Walk in the front doors of the M Resort in Las Vegas and experience sheer elegance combined with modern comforts and hundreds of shapely white Calla lilies. For those who intend to stay overnight, multiple options are available from standard rooms to multi-level corporate suites.
Each room combines modern style with a welcoming mix of comfort and upscale furnishing. Top of the line sound systems, electric "Do Not Disturb" signs and automatic lighting make any stay more convenient and comfortable. Lights can be turned on by slipping your keycard into a wall holder. When you remove it to leave, the lights will turn themselves off in an energy saving feature.
After settling into your room, many wonderful options for entertainment and refreshment await in other parts of the M Resort. A high tech sports and race book connects to the Vig Deli, which features traditional game day favorites like pizza and chicken wings. The Deli is decorated with Super Bowl scores, pictures of MVPs and other sports memorabilia. Classic table games, video slot machines and a sumptuous high limit lounge will please any gambling fan at the M Resort casino.
Visit the Spa Mio, which features many opportunities for relaxation and beauty treatments as well. Sixteen different rooms, including a sauna and steam room, offer guests the chance to relax in style and be pampered by professionals. The adjacent salon features comfortable shampoo stations, hair stylists and electric massage chairs for the ultimate relaxation.
After all the gaming fun and pampering in the spa, visitors to the M Resort and local Las Vegas residents may want to stop in for a meal or drink at any of the excellent restaurants, cafes and bars on the property.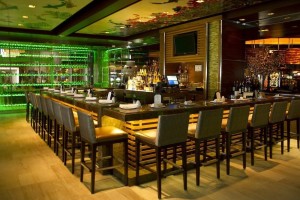 Asian cuisine that blends together Japanese, Chinese and Korean dishes can be found at Jayde Fuzion. This eatery was created by Chef Seonkyoung Longest, who won Food Network's "Restaurant Express" competition. Besides the delectable contemporary dishes, an interactive sushi bar is available.
Steak is on the menu at Anthony's Steakhouse, which also serves fresh seafood. Anthony's Gourmet Burgers & Brews caters to the more casual crowd with their delectable Imperial Burger specialties. Italian food is served at Marinelli's Pasta Bar and guests can sample an assortment of excellent dishes at Studio B, a buffet restaurant. House wine and beer is included in the price of a meal. Studio B features 117 screens that show cooking demonstrations, which visitors to M Resort can take part in at the attached show kitchens.
Those who stop in for a drink have plenty of options as well. Bars include the 32 Degree Draft Bar, the M Bar, another bar in the lobby next to the casino and the Hostile Grape Wine Cellar where guests can taste wine from self-serve dispensers.
M Resort Las Vegas Details:
Address: 12300 S Las Vegas Blvd, Henderson, NV 89044, United States of America.
Total number of rooms: 390 rooms.
Entertainment: Villaggio Del Sole Pool and Entertainment Plaza featuring live music.
Food and Drinks: Marinelli's Pasta Bar, Anthony's Steakhouse, Jayde Fuzion, The Vig Deli, Anthony's Gourmet Burgers and Brews, Baby Cakes and Studio B.
Clubbing: Hostile Grape Wine Cellar, as well as four other bars and lounges.
Gambling: Gaming area of 92,000 square-feet, including poolside casino, featuring over 1800 slot and video poker machines and more than 60 table games.
Sportsbook: M Resort Cantor Race & Sports Book with 103″ TV, two large screens and 90 seats.
Resort Attractions: None.
Shopping: Vice.
Health & Fitness: M Resort fitness club.
Pool: M Resort Pool and VIP pool – Daydream.
Spa: Spa Mio with world-class spa services and a full-service salon.
Weddings: A number of weddings packages are available.
Business Center: Available.
Conference Rooms: 60,000 square-feet of meetings space, plus M Pavilion events center at 25,000 square-feet and a special area on the 16th floor with a city view at 7,200 square-foot.
Car Park: Garage parking for up to 500 vehicles.
Wheelchair Access: Yes.
M Resort Las Vegas Photo Gallery: