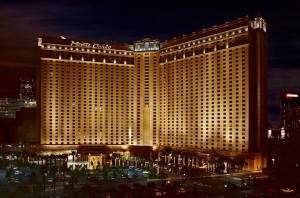 Anyone who has ever been to Las Vegas will tell you that Las Vegas Boulevard, or the Strip as it's more commonly known, is the place to be for excitement and entertainment.
The Monte Carlo is a fabulous resort that sits right in the middle of that spot, making it one of the most sought after places to stay in Las Vegas. There is a lot more to love other than just the location, though, starting with the affordability of the rooms. It's a great place to kick back and relax, in between bouts of taking in the party vibe that the city projects. As such, older residents seem to enjoy the Monte Carlo, as they know they won't be surrounded by college age kids at every turn.
The relaxed nature of the place does not mean that it's boring, though, as there are a ton of fun amenities on offer inside the hotel. Plenty of big name stars take to the stage there, and the Blue Man Group perform their wildly unique show, year round.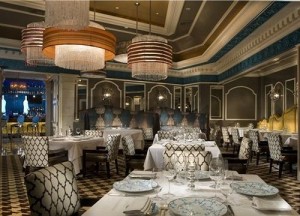 Great food is also a feature of the Monte Carlo, with Chef Andre Rochat's restaurant among the highlights of the culinary offerings. He uses only the best ingredients of the season to create a menu that is sure to delight every diner who eats there.
If you are in the mood for a massive hunk of meat, you need to check out the huge portions on offer at Brand Steakhouse. A little slice of Mexican magic can be found at Diablo's Cantina, while grape lovers will get a real kick out of the food and wine pairings delivered at D. Vino. If you don't have time for a delicious sit down meal, you can grab a bite to eat on the go from Corner Cakes. You can also lead up for the day at The Buffet.
Those looking to get close to the action on the Strip,will love the Double Barrel Roadhouse. The restaurant spills out onto the street and delivers a rustic, barn-style charm with live music and great food always on the menu. American comfort food is what you will find, as well as a great selection of adult beverages.
Chef Matthias channels the tastes of Japan to deliver culinary delights at Yusho. There are plenty of great seats in the dining room, bar, and outdoor patio, but the best view of the action may well be found in the kitchen area seating. For pizzas that are a little out of the ordinary, you need to try 800 Degrees Pizzeria.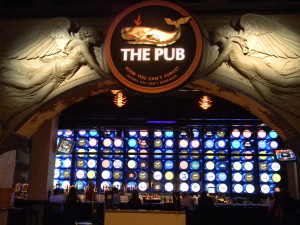 Dueling pianos, great food, and the perfect pint can all be found at The Pub. This is a truly massive space, but you can make your experience a little more intimate by hitting the patio out by the pool or moving to the smaller upstairs room.
There are also a couple of great late night spots to choose from, including the extremely cool Minus5 Ice bar, where you may just need to wear gloves and a jacket. The Ignite Lounge is a dazzling, LED lit drinking spot where the colors always change.
There are some great spots in the hotel where you can go to enjoy some down time. You can cruise along the 400-foot lazy river out by the pool area, or perhaps settle in for a day of pampering at the Spa & Salon Monte Carlo. It's a great way to unwind, as well as get that perfect new look, before hitting the streets for a night on the town.
If you want to complete your new look with a great new outfit, you can get everything you need at the Street of Dreams. There are all kinds of foods and fashions available in the shops in that area, as well as a free tram that will take you to the Bellagio hotel and Crystals at CityCenter.
The interior of the Monte Carlo screams luxury at every turn, with imported marble and other extravagant materials used throughout. The crystal chandeliers overhead make you think of old Europe. The rooms have all the amenities you need to be relaxed and comfortable – the 40-inch LCD TV and iHome docking station are just a few of them, plus a lot more beyond what you might expect.
For something truly unique, check out the hotel within a hotel experience that is HOTEL32. Located on the 32nd floor, you will find five different kinds of suites that are a cut above the average room. High-tech amenities and amazing views of the city are what makes these rooms a little extra special.
What's more, staying in one of the HOTEL32 suites means having access to your own personal assistant and limo service. You will also be given some extra special amenities, which includes a refrigerator stocked with your favourite goodies.
Everything you need for a perfect Las Vegas vacation can be found inside the luxurious Monte Carlo hotel. It's the perfect place to stay, situated in the perfect spot in the heart of the Strip.
Monte Carlo Hotel & Casino Las Vegas Details:
Address: 3770 Las Vegas Blvd S Las Vegas, NV, 89109, United States of America.
Total number of rooms: 3,248 rooms, of which 256 are suites.
Entertainment: Blue Man Group show and regular performances in the Monte Carlo Hotel theater.
Food and Drinks: Brand Steakhouse, Andre's, Diablo's Cantina, Buffet, Yusho, Dragon Noodle Co, D.Vino, The Pub, 800 Degrees Pizzeria, Cafe at Monte Carlo, Double Barrel Roadhouse, Corner Cakes and Monte Carlo Food Court.
Clubbing: Minus 5 Bar, Brand Lounge, Diablo's (live music) and Double Barrel Roadhouse (DJs playing on weekends).
Gambling: Monte Carlo Casino at 90,000 square-feet, featuring over 2000 slot and video poker machines, a poker room and all the popular table games, including blackjack, roulette, craps, baccarat, pai gow poker, etc.
Sportsbook: 138 seats with 18 TVs and one big screen.
Resort Attractions: None.
Shopping: The Street of Dreams shopping area features numerous shops. Others include, Monte Carlo Boutique, Club Casino Royal and Luxury for Less.
Health & Fitness: Monte Carlo Fitness Center at 3,000 square-foot.
Pool: Monte Carlo Pool, which is heated, there's a Jacuzzi, a lazy river and wave pool as well.
Spa: Spa at Monte Carlo offers a wide range of spa services, and there's a full-service salon too.
Weddings: Wedding Chapel at Monte Carlo (ceremony packages available).
Business Center: None.
Conference Rooms: Available.
Car Park: Yes, garage parking.
Wheelchair Access: Yes.
Monte Carlo Hotel & Casino Las Vegas Photo Gallery:
More Las Vegas Hotels You Might Like