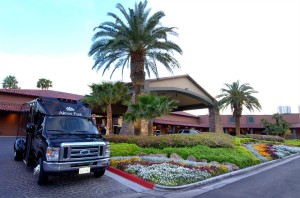 The Alexis Park All Suite Resort is located very close to the Las Vegas Strip, while still provides an excellent accommodation in an intimate boutique-style hotel. It is situated on Harmon Avenue, around the busy Paradise Road, meaning it's only a walking distance from the Hard Rock Hotel & Casino and the KISS-themed golf course, as well many restaurants located nearby.
The overall atmosphere and the architecture of the Alexis Park All Suite Resort makes you think that you're on an island in the Mediterranean Sea. You will find beautifully landscaped gardens and winding paths that will take your breath away. There are 495 suites in total giving you a choice of basic studios or if you need something bigger, then there are two-bedroom lofts available as well. These are small buildings surrounded by 3 courtyard pools, which are up to 5 feet deep. With standard amenities you get a refrigerator, a coffeemaker, a 32-inch flat screen TV and a little wet bar. There's also a mini-gym to help you stay fit while on holiday, a business center and a gift store to shop around.
Choice in Las Vegas Dining
There are no gaming facilities at the Alexis Park All Suite Resort and you are not allowed to smoke on the premises, which are good news for people who are looking for something more relaxing when visiting Las Vegas. Alexis Gardens Restaurant is the only dining venue available, but it's a lovely place to be, which also gives you a great view of the main pool. The restaurant serves breakfast, lunch and dinner, and a room service is available as well.
For quick snacks and interesting cocktails, you should check out the Pegasus Bar & Lounge, where you can also enjoy live music and comedy acts, which are regularly featured in the showroom.
Meetings and Conferences
The Alexis Park All Suite Resort is no stranger to hosting a variety of events, including weddings, reunions for families and business meetings. The banquet service is capable of handling of up to 1600 people, so you can be sure no one will be left behind. The friendly staff and an easy access to the Las Vegas Strip makes this resort an excellent choice for travelers who want to experience the Entertainment Capital of the World without getting too involved with gaming and casinos, while still immersing themselves in a relaxing atmosphere of the Alexis Park All Suite Resort.
Alexis Park All Suite Resort Details:
Address: 375 E. Harmon Ave Las Vegas, NV, 89169, United States of America
Total number of rooms: 495 suites available.
Entertainment: Comedy and live music.
Food and Drinks: Alexis Garden Restaurant and Pegasus Bar & Lounge.
Clubbing: Enjoy the Vegas nightlife in the Pegasus Bar & Lounge, drinks are available until late evenings.
Gambling: Not available.
Sportsbook: Not available.
Resort Attractions: None
Shopping: Not available.
Health & Fitness: An exercising room is provided.
Pool: 3 pools and 2 Jacuzzis
Spa: Not available.
Weddings: Wedding services can be arranged.
Business Center: Yes
Conference Rooms: A total area of 40,000 square feet.
Car Park: Free parking lots offered.
Wheelchair Access: Yes
Alexis Park All Suite Resort Photo Gallery (click to enlarge)