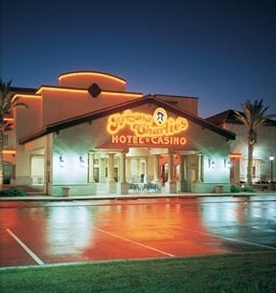 Arizona Charlie's Boulder is located on the east side of Las Vegas and it's a perfect choice for visitors, who can't afford to stay around the Strip and look for a good value for money accommodation. It's a compact resort situated on Boulder Highway, which is loved by the locals and offers reasonably comfortable rooms and a decent casino.
While the rooms are pretty basic in terms of standard amenities, however there's plenty of space and you still get a TV, an iron with an ironing board, as well as room climate control. There's a pool available in the courtyard and you get a hot tub as well. There are 3 restaurants available at the resort and they are all located on the 2nd floor of the hotel. Yukon Grille specializes in steak meals, however there's plenty of choice of seafood, duck, lamb and other tasty meats available on the menu as well.
When your stomach is calling for some serious food, Arizona Charlie's Boulder Las Vegas is the place to go. For more casual American cuisine, you should check out the Sourdough Café, where you'll get served breakfast, lunch and dinner. The Wild West Buffet is the largest dining venue at the resort and the menu doesn't disappoint – whether you want a simple pasta or an exquisite desert, they have it all. For quick snacks and a cup of coffee, visit Charlie's Cheesesteak Deli.
There's a huge variety of games in the casino. Place bets on your favorite teams and then lay back in the race and sports book to watch the day's matchups. If that's not enough, then there are also twelve different table games and over 1000 poker machines, so make sure to try your luck before you go.
Elbow Creek Bar is there all night to provide you with cocktails and various beverages, so take a break from gaming whenever you need it. For nightlife and live shows, don't forget to visit the Palace Grand Lounge, featuring many interesting acts.
Arizona Charlie's Boulder has a massive RV park with over 200 spaces, so if you're travelling with an RV, then parking won't be a problem around here. In the clubhouse you'll find a pool bar, some exercising equipment, a TV and laundry services.
Being less than 10 miles away from McCarran International Airport and very close to the Strip, locals and tourists agree that Arizona Charlie's Boulder is an excellent value for money hotel and it provides comfortable accommodation with an easy access to the Strip.
Arizona Charlie's Boulder Las Vegas Details:
Address: 4575 Boulder Highway, Las Vegas, NV, 89121, United States of America
Total number of rooms: 301 rooms.
Entertainment: The Palace Grand Lounge with live music.
Food and Drinks: Wild West Buffet, Yukon Grille, Charlie's Cheesesteak Deli and Sourdough Cafe.
Clubbing: There are 2 bars available at the hotel – Elbow Creek Bar and Jake's Bar.
Gambling: Over 1000 slot and video poker machines, a casino gaming area of 47,000 square foot, including numerous tables games, such as blackjack, roulette and others.
Sportsbook: Sportsbook is available with 20 TVs, 2 large screens and 45 seats.
Resort Attractions: None.
Shopping: A gift shop is available.
Health & Fitness: Not available.
Pool: A medium-sized pool and a Jacuzzi are available at the resort.
Spa: Not available.
Weddings: Available on request.
Business Center: None.
Conference Rooms: Small events can be organized.
Car Park: 4-story garage.
Wheelchair Access: Yes.
Arizona Charlie's Boulder Las Vegas Photo Gallery: