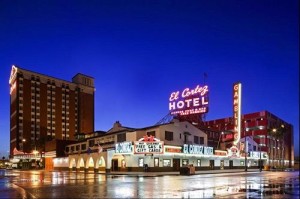 El Cortez opened in 1941 and hasn't closed its doors since, making it the oldest hotel and casino in Las Vegas. In its early years, Bugsy Seigel and other known mobsters owned it, lending a bit of infamous prestige to the place. These days, it stands as a symbol of the revitalization efforts in the Fremont East Entertainment District of Las Vegas. The hotel was recently added to the National Register of Historic Places. In an area known for its art scene, guests at the hotel can enjoy the local nightlife and the Fremont Street Experience.
This hotel and casino combines modern amenities with a true feel of the golden days of Old Vegas. Experience all the style and service of times gone by in El Cortez's comfortable rooms, multiple restaurants, bar and casino. Recent multi-million dollar restorations have improved and updates most facilities on the property.
Two towers and the main building offer an array of hotel rooms for every taste. Basic rooms are cost-effective and comfortable with queen sized beds. Vintage rooms let you climb the stairs to go back in time to the 1940s with classic décor and modern amenities. A selection of luxurious suites are also available, including the South Beach inspired Cabana rooms across the street. Many of the rooms were decorated based on the hotel's Design-a-Suite Downtown contest. A beauty parlor, barber and gift shop are available on site.
After settling in to your room at the El Cortez, it is time to have some fun. The casino hosts a variety of coupon deals and other promotions to expand your entertainment possibilities. Over 1,000 slot machines, including some vintage coin-operated models, line the casino walls. There is also a keno lounge and a Station Casino's affiliate sports book ready to fulfil all your gaming desires.
Refuel for more gambling or a stroll down Fremont Street at one of the popular restaurants or cafes at the El Cortez. The Flame Steakhouse lets you relax in vintage style while listening to the piano player. Not only is the décor reminiscent of the classic days of Las Vegas, but the menu is as well. Old-time favorites like oysters Rockefeller, chicken Kiev and strawberries Romanoff still please the palate of discerning diners.
The Parlour Bar & Lounge may be to the El Cortez hotel and casino, but its style provides another opportunity for guests to travel back in time to a different era of class and sophistication. More live piano music entertains guests as they relax in rich leather chairs in the elegant atmosphere. Smoky mirrors and the rich textures give a cozy, old-world club feel. The menu here also includes favorites from long ago such as the mint julep or classic manhattans. The expert bar tenders have created delicious new mixes as well.
If your tastes are more casual, or if you are traveling with children, the El Cortez offers other options for your dining pleasure. Café Cortez is open all day and night with economical specials on breakfast, prime rib, Chinese style food and additional specials at night. The hotel also offers several fast food options in a food court adjacent to the lobby. Grab a sandwich at Subway, a hot drink at Seattle's Best Coffee and dessert at Dreyer's Ice Cream Shop.  Any time of day or night, the Gambling Gourmet service will bring food directly to your side at any gaming table or machine.
Whether you come to Las Vegas for modern slots and cocktails or want to delve into the elegant past when infamous men met in plush lounges, the historic El Cortez hotel and casino can provide. You will find comfortable rooms, plenty of gaming fun, sumptuous meals and the type of vintage style only found at this oldest of Las Vegas sites.
El Cortez Las Vegas Details:
Address: 600 Fremont St Las Vegas, NV, 89101, United States of America.
Total number of rooms: 363 rooms.
Entertainment: The Parlour Bar & Lounge live shows at  night.
Food and Drinks: The Flame Steakhouse, Cafe Cortez, Subway, Dryers Ice Cream and Seattle's Best Coffee.
Clubbing: The Parlour Bar & Lounge, plus the lobby bar and the casino bar.
Gambling: Casino area of 45,000 square feet, featuring poker, roulette, Caribbean Stud Poker, Megabucks and many other games. Casino also includes over 1000 slot machines.
Sportsbook: Available.
Resort Attractions: Fremont Street Experience.
Shopping: A gift shop is available.
Health & Fitness: Cabana Suites fitness center.
Pool: None.
Spa: Spa services are available.
Weddings: No wedding services.
Business Center: None.
Conference Rooms: Yes.
Car Park: Two 5-story garages.
Wheelchair Access: Yes.
El Cortez Las Vegas Photo Gallery:
More Las Vegas Hotels You Might Like