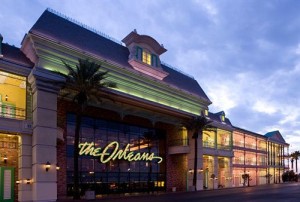 Built for locals to experience a bit of the Big Easy within a short drive from their homes and all the Las Vegas night life, The Orleans hotel sits on Tropicana Avenue. Like so many of the other Vegas attractions, this property is designed specifically to bring a far off location with a distinctive flavour to life.
Visitors who do not wish to drive can hop a ride on the free shuttle from the Las Vegas strip and the Gold Coast hotel and casino, The Orleans's sister property in the city.
Stopping in for a bit of afternoon gambling is a true experience at The Orleans. Over 2,500 slot, keno and video poker machines surround thrilling table games with many bid amounts. A 24-hour non-smoking poker lounge offers people a fresh air alternative with plenty of gaming fun. Sports fans can thrill to the big game or race at the sports book, which has 125 seats conveniently situated to watch one of the giant flat screen televisions.
For those who cannot tear themselves away from The Orleans's unique style and fun, dinner might be next on the itinerary. While you can grab a casual meal at T.G.I. Friday's or the food court that features many popular fast food options like Subway, Sbarro and Fuddruckers, guests may want to extend the cultural experience at one of the themed eateries.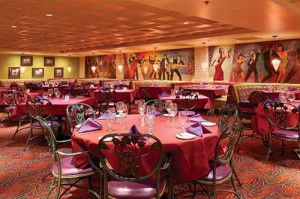 The French Market buffet offers a wide range of specialties including seafood, classic American dishes, and Mongolian and Italian food as well. Guests with a taste for Mexican meals can stop in at the Costa Cantina for chicken Azteca and tacos de pescado. Asian style cuisine and sushi can be found at Koji's. Want a succulent steak? The Prime Rib Loft dishes up the best to guests who can gaze down on the casino floor from the restaurant. Murals of Las Vegas favourite jazz musicians adorn the walls.
Big Al's Oyster Bar brings a bit of ol' Creole to Las Vegas with mouth-watering shellfish, clams and oysters. Canal Street features Louisiana crab cakes amid beautiful murals of olden time New Orleans. Other options for food and drink include the Mardis Gras bar, Alligator Bar and Crawfish Bar, each with their own unique style.
When the sun goes down, the party heats up at The Orleans. Stop for drinks at the Bourbon Street Cabaret, which boasts 140 seats and live bands every night as well as other entertainment. Marvel at the suspended piano hovering overhead that completes the unique décor.
The Orleans in Las Vegas is more than just a hotel and casino. It has multiple large venues and continuous shows and events happening no matter what time of the year you visit. The Orleans Arena hosts sporting events, including professional hockey and college basketball, hot rock concerts and family favorites like Disney on Ice.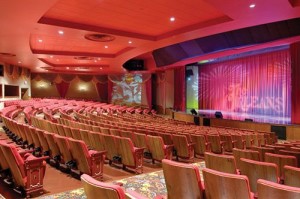 The Orleans Showroom and Century Orleans 18 theaters invite hundreds of guests to sit in comfortable chairs and enjoy any number of exciting shows, concerts, comedians and feature films.  There is seemingly no end to the possible fun at this hotel resort. The Buzz n' Brushes painting classes combine art with wine and cheese tasting, music and dancing with new friends. Children who visit with their families can have their own type of fun at Kids Tyme. Professional staff will supervise the children as they watch movies, engage in crafts, climb on the huge jungle gym or have a blast with Playstation and Nintendo Wii games. Teens will enjoy the adjacent Time Out Arcades as well.
With all the amazing food, stellar shows and gambling fun to be had, visitors to The Orleans should plan on booking one of the 1,885 rooms in the hotel. Decorated with plush comfort and clean design, the rooms include New Orleans's style artwork on the walls. All apartments come with a flat screen TV and suites feature a combined sitting area for out-of-bed relaxation. Room service is available.
After luxuriating in a comfortable bed all night, head down to the fitness center to get your body pumped and ready for a new day of fun and adventure. Top quality cardio and weight lifting equipment can suit any guest. Just outside the hotel, are The Orleans multiple pools. Finish up your fitness regimen with some laps in the swimming pool. Relax in the oversized hot tub. Or just get your feet wet and cool down a bit in the lovely wading pool. Comfortable lounge chairs await under the swaying palm trees. Private cabanas are available to rent as well.
Find even more relaxation at Spa Orleans, which offers many types of treatments for men and women. Get a soothing massage, skin treatments like facials and body wraps or prepare for an evening's events with a new haircut, straight razor shave for men and professional beauty treatments for women.
From the moment visitors approach The Orleans hotel and casino, they are transported across the country and back in time to the classic days in Louisiana. The hotel's exterior features iconic multi-tier terraces and Mardi Gras style artwork. A walk through the lobby will reveal more art that reflects the New Orleans vibe. Everywhere you turn in The Orleans, you will find southern style hospitality, French Quarter atmosphere, comfort, excitement and fun.
The Orleans Hotel Las Vegas Details:
Address: 4500 W Tropicana Ave Las Vegas, NV, 89103, United States of America.
Total number of rooms: 1,885 rooms.
Entertainment: Orleans Arena (9,000 seats), Orleans Showroom (850 seats), Bourbon Street Lounge and Brendan's Irish Pub.
Food and Drinks: TGI Friday's, Big Al's Oyster Bar, French Market Buffet, Coasta Cantina, Koji's Sushi Bar & China Bistro, Canal Street, The Prime Rib Loft, Courtyard Cafe, Java Vegas Coffee, Rocky Mountain Chocolate, Baskin Robbins and Sbarro.
Clubbing: Drinks are available at the bars of Bourbon Street Lounge and Brendan's Irish Pub.
Gambling: The Orleans Casino (135,000 square-feet) features over 2,500 slot, video poker and keno machines, numerous table games (blackjack, roulette, craps, etc), as well as Megabucks and a 24-hour poker room.
Sportsbook: 125 seats with 2 large screens and 19 TVs.
Resort Attractions: Buzz n' Brush acrylic painting experience, a bowling center and movie theatres.
Shopping: A gift shop is available and a liquor store.
Health & Fitness: The Orleans Fitness club, includes a number of cardio and weight training machines.
Pool: 2 pools (an Olympic-sized and a wading pool) and 1 jacuzzi.
Spa: The Spa Orleans provides a full-service spa treatments, including massages and barber shop services.
Weddings: Not available.
Business Center: Yes.
Conference Rooms: 40,000 square-feet of meetings space is available.
Car Park: 4-story garage parking.
Wheelchair Access: Yes.
The Orleans Hotel Las Vegas Photo Gallery:
More Las Vegas Hotels You Might Like