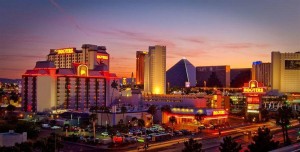 In a town famous for beautiful sexy women, The Hooters Casino Hotel in Las Vegas could very well have the monopoly.  The Hooters is just a short drive from McCarran International Airport and conveniently located on Tropicana Avenue, within a walking distance of the famous Vegas Strip.
If you've ever been to a Hooters restaurant, you'll know what to expect.
Hooters Casino Hotel in Las Vegas offers great food and great service from a bevy of gorgeous women wearing the trademark tight orange shorts and revealing white tank tops.  With a fun and relaxed ambiance, Hooters Casino Hotel resort has all this, plus even more stunning women.
While famous for being a bit cheeky, Hooters Casino Hotel it's not all just about beautiful scantily clad women.  The hotel accommodations are fresh and inviting, there are a number of options when it comes to eating and drinking and you'll find all the excitement you can handle in Hooters' very own casino.
For entertainment of a different kind you can see Kevin Lepine performing in the Night Owl Showroom.  Kevin's show, "Hypnosis Unleashed" is hilarious and just a little naughty.  You could even star in the show yourself!
Hooters Casino Hotel has a definite "beach" feel to it, with walls decorated with brightly colored surf boards and footprints painted on the floor.  The tropical feel continues to the pool area, which even has a waterfall!  Guests can enjoy the pools any time, day or night.  If you're thirsty you can order any icy cold beer or cocktail from one of the Hooters Girls who are there to look after you.  Pete & Shorty's is another option if you are looking for a relaxing drink.
The Hooters Casino is decorated with festive lightning and wooden floors. The action never stops at the gaming tables, where cheeky Hooters girls are always ready for a challenge. In the casino, you will find over 500 slot and video poker machines, including the popular Blazen Hooters. If you love poker, then check out the dedicated room for that and for sports, there's William Hill.
As hard as it may be to believe, there comes a time when people's attention can stray from the Hooters Girls.  Each year, during NASCAR season, the famous Thunderbird, sponsored by Hooters and driven by the late Alan Kulwicki when he won the American NASCAR Winston Cup in 1992, is on display.
With all the gaming, lazing by the pool and admiring beautiful women, it's easy to build a mighty hunger.  If so, Hooters is the place to be!  Besides breakfast, lunch and dinner there are, of course, the famous Hooters' chicken wings.  There's also the Bait Shoppe, perfect for a coffee and a bagel, and for fine dining, you need look no further than Mad Onion Fine Food & Spirits.
Hooters Casino Hotel Las Vegas Details:
Address: 115 E. Tropicana Las Vegas, NV, 89109, United States of America.
Total number of rooms: 696 rooms (includes 17 suites).
Entertainment: Kevin Lepine's "Hypnosis Unleashed".
Food and Drinks: Mad Onion Fine Food & Spirits, The Bait Shopped and Hooters.
Clubbing: Pete and Shorty's.
Gambling: Casino area of 30,000 square feet, includes 550 slot and video poker machines, 26 gaming tables and a dedicated poker room.
Sportsbook: William Hill.
Resort Attractions: None.
Shopping: The Bait Shoppe and Splurge.
Health & Fitness: 24-hour fitness room.
Pool: 2 tropical pools with a waterfall.
Spa: Not available.
Weddings: No wedding services.
Business Center: None.
Conference Rooms: Meetings space of 2,800 square feet.
Car Park: 6-story garage parking.
Wheelchair Access: Yes.
Hooters Casino Hotel Las Vegas Photo Gallery: