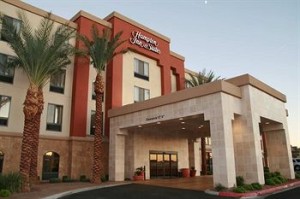 Hampton Inn & Suites Las Vegas South is the ideal hotel to stay in, if you don't want to be too far away from all the action of the Vegas strip and need budget accommodation.
It's located in Henderson town on St. Rose Parkway, only a short distance away from the St. Rose Dominican Hospital (Siena Campus). The famous M Resort and MandalayBay are also nearby, being only a few miles away. However, it's not just a hotel with comfortable rooms, it's also a perfect place for your business needs.
The Hampton Inn & Suites Las Vegas South has a 24-hour business center and spacious meetings rooms, so if you're travelling to Vegas for business matters, then you'll be pleased to find out that Hampton Inn has it all.
The rooms include all the basic amenities, such as flat-screen TV, refrigerators, microwaves, hair dryers and more. The beds are modern and cozy, so a great night sleep after a long day out is guaranteed. Suites are also available, which have spacious living rooms with sofas. Free Wi-Fi is accessible throughout the property as well.
Hampton Inn & Suites Las Vegas South also includes a free hot breakfast, which is an awesome way to kick-start your day – don't forget to grab tea or coffee in the lobby at any time you like. To stay fit and strong, check out the 24-hour fitness room, there's an outdoor pool and hot tub available as well.
A complimentary newspaper is provided during the week and there's also a convenience shop, where you can buy everyday snacks and other items.
Rio Secco Golf Club is just 2 miles away from the hotel, so if that's your sport, then make sure to visit the club while you're there. Hoover Dam is about a half an hour drive from Hampton Inn & Suites Las Vegas South and Lake Mead Recreation Area is also around the corner. There's free parking available at the hotel too, so everything is taken care of for you, meaning you can just relax and enjoy your stay.
Hampton Inn & Suites Las Vegas South Details:
Address: 3245 St Rose Pkwy Henderson, NV, 89052, United States of America
Total number of rooms: 132 rooms.
Entertainment: None.
Food and Drinks: Free breakfast is provided daily, however no restaurants are available on site.
Clubbing: Not available.
Gambling: Not available.
Sportsbook: Not available.
Resort Attractions: None.
Shopping: The Suite Shop (a convenience store).
Health & Fitness: 24-hour fitness room.
Pool: An outdoor pool with a jacuzzi.
Spa: Not available.
Weddings: No wedding services.
Business Center: 24-hour business facilities, including copying/printing/scanning/faxing and Internet.
Conference Rooms: Meetings space available up to 1,500 square feet.
Car Park: Free parking lots provided.
Wheelchair Access: Yes.
Hampton Inn & Suites Las Vegas South Photo Gallery: