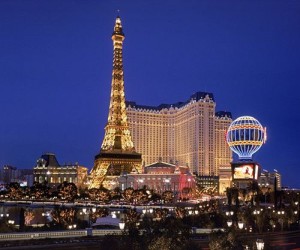 Paris has a reputation of being one of the most beautiful, romantic cities in the world, but it is one that not everyone can afford to go to. If you yearn for Paris, but don't have the budget to make it to Europe, you can find the next best thing by staying at the Paris Las Vegas Hotel in the heart of the Las Vegas Strip.
The Paris hotel will lead you to believe that they have stolen some of the city's most iconic buildings and dropped them in the middle of the Nevada desert. Since 1999, guests have been wowed by the beautiful recreations of the Arc de Triomphe, the Eiffel Tower, and La Fontaine des Mers at the Place de la Concorde, all of which can be seen around the hotel.
The one that is sure to stand out the most from that group, as well as the many other architectural wonders that are on display, is the half-scale version of the Eiffel Tower that stretches up into the Vegas skyline. A trip to the top offers amazing views, including one of the best places to see the dancing waters of the Bellagio right across the street.
Stepping inside the hotel is where you will discover three of the four legs that hold the tower aloft. You will also see a setting made of cobblestones, fountains, and foliage that will make you feel as though you are walking down a street in the city of Paris.
You will know that you are in Vegas, though, when you stumble upon the casino floor, which is arguably one of the most picturesque in Vegas. It can lead to a little confusion as your senses fight to decipher where it is you really are.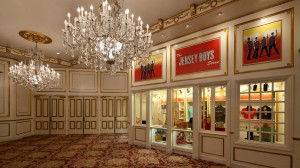 There is a varied selection of entertainment on offer at Paris Las Vegas, with everything from headliners to Parisian-style street performers.
The fantastic, award-winning musical "Jersey Boys" is at the top of the list for many, while those looking for laughs will love Anthony Cools adult-themed hypnotist show. Take to the stage as a volunteer at your own risk. As you would expect from a resort with a Paris theme, the nightlife is something to behold.
Luxuriously rich is the only way to describe the incredible interior that awaits when you step inside Chateau Nightclub. The Terrace is the perfect place to party and watch what's going on with the folks on the Strip. Napoleon's Lounge is home to some great live music, as well as more than 100 different types of champagne. Cabaret evenings with pop songs sung in both English and French are regularly performed by world-class bands at Le Cabaret Lounge.
It's not that difficult for guests to make a French connection at Paris, as there are plenty of dining options that embrace the old country. One of the best of those is Mon Ami Gabi, which serves up the sort of food you would expect to find in a Parisian bistro. There is brie cheese and escargot on the menu, as well as wonderful crepes and steak frites. This was also the first place that offered patio dining right on the Strip.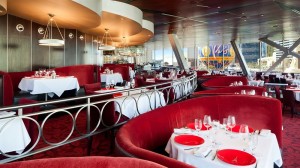 You may need to cover your ears if bad language offends, but that is only if the chef is in the house at Gordon Ramsay Steak at Paris Las Vegas. A little higher up in the food chain is Chef J. Joho's Eiffel Tower restaurant, which can be found 11 storys above the Strip. If you are looking for a place to have a romantic dinner for two, this is definitely the place.
Franco-Italian food can be found at La Provencal, while Le Burger Brasserie delivers burgers with a French twist. Among the unique items on the menu are a Kobe beef burger that gets close to the $800 price tag. More affordable treats are available for sweet lovers at the Sugar Factory.
Even the casual dining options available at Paris Las Vegas are a cut above. Six different regions of France are represented in the Le Village Buffet, while Le café Ile St. Louis offers a little slice of sidewalk seating, as well as a dining room that is incredibly intimate. Crepes of all kinds are on the menu at La Creperie. What would a visit to a French-themed resort be without a place to pick up some fresh-baked breads and pastries, which is exactly what you can get at JJ's Boulangerie.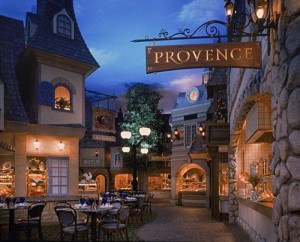 Food is everywhere you look, with walk-up windows serving delicious dishes in amongst the great boutique shops along Le Boulevard. You can find all the souvenirs you need among those stores, as well as great wine, books, fashion, and much, much more.
If you are looking for a place to relax, you can get all the pampering you need at the Paris Spa by Mandara. As well as massages and all sorts of luxurious treatments, you will also find a fully-equipped fitness center and a steam room. The pool area can be found on the roof, a stunning 2-acre spot that also has food and drinks available to guests.
A little walk along Le Boulevard will take you to Bally's. There is also a free shuttle available to take you to the Rio Hotel and Suites.
If you have always dreamed of walking the streets and seeing the sights of Paris, you might want to start that journey in Las Vegas.
Paris Las Vegas Details:
Address: 3655 Las Vegas Blvd S Las Vegas, NV, 89109, United States of America.
Total number of rooms: 2,916 rooms.
Entertainment: "Jersey Boys" musical show in Le Theatre des Arts and "Anthony Cools – The Uncensored Hypnotist" experience.
Food and Drinks: Le Provencal, Eiffel Tower Restaurant, du Pac, Cafe Belle Madeleine, Mon Abi Gabi, La Creperie, Le Village Buffet, Le Cafe Ile St. Louis, Gordon Ramsay Steak, JJ's Boulangerie, Le Burger Brasserie and Sugar Factory.
Clubbing: Chateau nightclub, The Terrace and 4 bars, including Le Central Lobby Bar, Napoleon's Piano Lounge, Le Cabaret Lounge and Gustav's Casino Bar.
Gambling: 85,000 square-feet Paris Las Vegas Casino has more than 2000 slot and video poker machines and over 100 table games, including blackjack, roulette and others.
Sportsbook: 265 seats with more than 200 TVs, including 11 large screens.
Resort Attractions: The half-scale replica of the Eiffel Tower.
Shopping: Le Boulevard offers a number of retail outlets and restaurants.
Health & Fitness: Available.
Pool: Soleil Pool and 2 hot tubs.
Spa: Spa by Mandara features a full-service salon and provides numerous types of massages and other spa treatments.
Weddings: Paris Chapel offers multiple weddings packages.
Business Center: Yes.
Conference Rooms: A total meetings space of 140,000 square-feet is available.
Car Park: 7-story garage parking.
Wheelchair Access: Yes.
Paris Las Vegas Photo Gallery:
More Las Vegas Hotels You Might Like