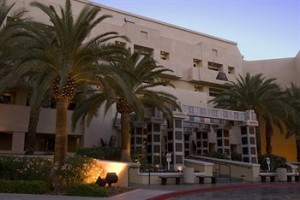 While The Cancun Resort is not located on the famous Vegas Strip, however it's only a short drive from there, as it's on the south end of Las Vegas Boulevard.
You will still be able to catch up with all the shows and enjoy the fine food in popular restaurants without having to pay hefty rates for the hotels on the Strip.
The Cancun Resort is a non-gaming destination, so those of you who like to gamble will have to find an alternative place to stay.
However, if you love shopping and don't want to go too far for the latest bargains, then you'll be pleased to find out that the Las Vegas Premium Outlets (South) is only a few minutes away from the resort, offering over 100 different shops, along with a number of cafes and restaurants.
While the rooms don't provide the luxury of the Strip's suites, they are still very spacious, comfortable and have everything you'll need to fully enjoy your holiday. The condo's kitchen comes equipped with a fridge, oven and a dishwasher. On top of that, your living room will have a sofa and a TV for entertainment, so you can feel like at home.
You'll have a choice of one or two bedroom condos and depending where you decide to stay, you will either get the amazing view of the Strip or the breathtaking landscaping of the mountains.
One of the key attractions of the Cancun Resort is its amazing Mayan atmosphere with creative sculptures, imaginative design and exquisite elements, such as the temple-like looking structure with waterfalls located in the middle of the pool, which also hides the Jacuzzi inside it.
You can stay fit while getting the most out of your break as well, as there's a fitness center available at the resort, so when you feel like your diet is getting out of control, then hop in there to burn some calories. To relax after training, get a massage and make use of other spa services, which are also available at the Cancun Resort.
If you're having difficulties organizing your daily activities, then don't be afraid to ask the concierge for help, as him and all the friendly staff are there to assist you with booking any show tickets, reservations, tours and anything else you'll need to max out your stay in Vegas.
Cancun Resort Las Vegas Details:
Address: 8335 Las Vegas Blvd S Las Vegas, NV, 89123, United States of America.
Total number of rooms: 440 condos.
Entertainment: None.
Food and Drinks: Caribe Lounge, Mexican Restaurant and Bar.
Clubbing: Caribe Lounge Bar.
Gambling: Non-gaming resort.
Sportsbook: Not available.
Resort Attractions: Pool table and arcade room.
Shopping: Las Vegas Premium Outlets (South) – walking distance from the resort.
Health & Fitness: A fitness center is available.
Pool: Beautiful pool with a Mayan-style temple in the middle, hot tubs also available.
Spa: A range of spa services is available.
Weddings: No wedding services.
Business Center: Copy/faxing facilities only.
Conference Rooms: None.
Car Park: No parking at the site.
Wheelchair Access: Yes.
Cancun Resort Las Vegas Photo Gallery: