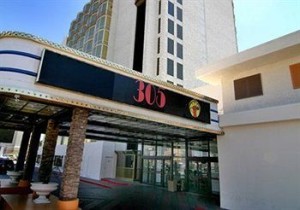 If you want to visit Las Vegas, but the resorts on the Strip are too pricey for you, then the Clarion Hotel & Casino could be exactly what you need. It's only a short walk from the Las Vegas Strip and located close to the Las Vegas Convention Center, so whether you've got gambling or business on your mind, its location is pretty much perfect.
The hotel is a budget accommodation, but you'll still get luxury-like floor-to-ceiling windows with beautiful views of Vegas. The rooms are spacious and comfortable with many amenities including cable TV, a fridge, and Internet. VIP rooms are also available.
On top of the basic amenities, there's also a 24-hour fitness room and a swimming pool, so you can get a workout at any time of the day and then relax in the pool after intense training. A Jacuzzi is also available.
The Clarion Hotel doesn't fall behind in the casino department either. There's a 4,500 square foot casino floor featuring popular games, such as Wheel of Fortune, Megabucks and others. If you're after live shows and entertainment, then you will be pleased to find out that the Shades of Sinatra is available in the showroom.
There's only one restaurant in the hotel called The Bistro, however its delicious breakfast, lunch and dinner will keep your stomach full without emptying your pockets.
If you're planning to host a business venue in the Clarion, then their 400 people banquet rooms won't disappoint.
Being located only a couple of minutes away from the McCarran International Airport, the Clarion Hotel & Casino also offers a convenient location for business and leisure travellers, meaning you won't have to worry about being late for anything.
The Clarion, without a doubt, has great value accommodations and is an ideal choice for those who are on a budget, yet looking for a place not too distant from all the hot spots of Vegas.
Clarion Hotel & Casino Las Vegas Details:
Address: 305 Convention Center Dr Las Vegas, NV, 89109, United States of America.
Total number of rooms: 202 rooms, including suites.
Entertainment: Shades of Sinatra.
Food and Drinks: The Bistro.
Clubbing: Not available.
Gambling: Casino area of 4,500 square foot.
Sportsbook: None.
Resort Attractions: None.
Shopping: A gift shop.
Health & Fitness: 24-hour fitness room.
Pool: A swimming pool and a Jacuzzi.
Spa: Not available.
Weddings: The Princess Wedding Chapel.
Business Center: Available.
Conference Rooms: Banquet rooms hosting up to 400 people.
Car Park: Free parking lots available.
Wheelchair Access: Yes.
Clarion Hotel & Casino Photo Gallery: