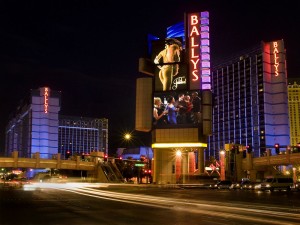 When it comes to resorts in Las Vegas, there is one resort that stands out on top for visitors. Right in the heart of the infamous Las Vegas Strip is Bally's resort, which has all the passion, the glamour and the vitality that the city has to share. At the same time, you can stay somewhere exciting, enjoy the fine spa and luxury dining all within your budget.
Join "Tony n' Tina's Wedding" for an interactive dinner and show within the LA Comedy Club at Bally's in Las Vegas, or see popular female tribute acts such as Adele, Celine Dion, Pink and even Madonna during the "Veronic Voices."
Looking for somewhere to sit down and enjoy a meal? There are a few different options depending on the type of food you enjoy. Go Mexican with the popular Tequila Bar and Grill or opt for a hot oriental experience with Sea – The Thai Experience. You'll not only enjoy your food, but get to enjoy a fusion of some of the best cuisine in the world. And when it comes to breakfast or a quick lunch, nowhere is better than The Sidewalk Cafe.
There are other fast food joints on the resort, and they're not your typical American-based multinational companies. Try out Johnny Rockets, Sbarro, Nathan's Famous or Pan Asian Express. You could also enjoy a juicy steak at the BLT Steak, which offers some of the best dishes from New York City, including signature dishes like Dover sole, tuna tartare and popovers.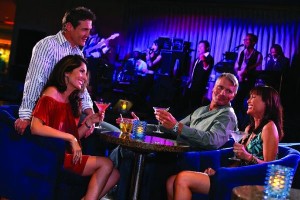 Bally's offers something for everyone. Want to see live bands perform? Then you need to take a trip to the Indigo Lounge, where you will also have a few table dancers performing just for you. Fancy a drink with friends? Check out the bar close to the lobby, Sully's. And when it comes to those late night parties, Drai's After Hours is coming very soon.
But what about the sports and the betting? After all, that's what many people come to Las Vegas for. Well, you will not be disappointed. The resort has Bally's Avenue Shoppes, which is one of the finest sports and race book in the whole of the city. While there, you can get a few souvenirs, gifts for your girl, or do a bit of shopping for yourself.
Bally is not without somewhere to sit, relax and enjoy a game or two with friends. The Sky Box is the VIP lounge and seats 100 guests. It includes flat-screen TVs, high-top tables and a bar that you will never worry about running out of your favorite tipple.
Of course, not everyone comes to eat, drink and be merry. You may want to get in some activity and enjoy sports with your friends. The tennis complex is open to guests and is the largest along the whole Strip and lit at night if you want to enjoy a game then. Need lessons? They are available, along with a pro shop to pick up your gear. You can also enjoy swimming in the Olympic-sized pool, or relax in the whirlpool with private cabanas.
The spa is available for those who just want to get away to relax. It's Bally's exceptional facility within the whole resort, and has 18 rooms for treatments. You can also enjoy the saunas (dry or wet), a eucalyptus stream room and hot tubs around the facility. Enjoy the spa after your trip in the fully equipped fitness center and then consider a trip to the salon afterwards.
There are 2,814 guest rooms or suites available within the Bally's resort. Each of the rooms come with the standard ironing boards and iron hair dryers, free Wi-Fi, cable TV and clock radios. For those travelling with pets, the resort welcomes them with the "PetStay" rooms for a small extra fee.
If you're looking for a spot of Paris while in Las Vegas, you will not be disappointed. Le Boulevard shops connects the resorts to the Paris section of the city. You can also get easy access to the various other hotels and the Las Vegas Convention Center through the Monorail, which is also close by.
When Bally's originally opened in 1973, it just had 2,000 rooms and was called the MGM Grand. While it was one of the biggest in the world, it has come along way. It no longer holds the title of one of the biggest, but that does not take away from the beauty, relaxation and wide choice of amenities just on your doorstep.
Bally's Las Vegas Details:
Address: 3645 Las Vegas Blvd S Las Vegas, NV, 89109, United States of America.
Total number of rooms: 2,814 rooms.
Entertainment: Jubilee Theater (1040 seats), Indigo Lounge, Veronic Voices, L.A. Comedy Club, Tony n' Tina's Wedding and Divorce Party Las Vegas.
Food and Drinks: Sidewalk Cafe, Java Coast, Sea – The Thai Experience, Blu Pool Cafe, Nosh Snack Bar, Tequila Bar and Grill, and BLT Steak.
Clubbing: Indigo Lounge, Sully's and Drai's After Hours.
Gambling: Casino area of 67,000 square feet – over 1500 video and slot poker machines, numerous table games, including Blackjack, Baccarat, Roulette, Caribbean Stud Poker and others.
Sportsbook: 256-seat sportsbook with 11 big screens and 150 TVs.
Resort Attractions: None.
Shopping: Bally's Avenue Shoppes, Signatures Boutique, Park Place Jewelers, Las Vegas Harley Davidson and over 20 other shops.
Health & Fitness: Yes, a fitness club.
Pool: The pool at Bally's.
Spa: The Spa at Bally's.
Weddings: No weddings services.
Business Center: Yes.
Conference Rooms: A total area of 175,000 square feet for meetings.
Car Park: 7-story parking garage, sharing with Paris Las Vegas.
Wheelchair Access: Yes.
Bally's Las Vegas Photo Gallery:
More Las Vegas Hotels You Might Like