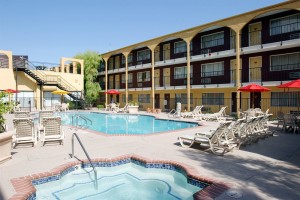 Mardi Gras Hotel has an excellent location being situated just 3 miles away from McCarran International Airport and the famous Strip and on top of that it also provides comfortable accommodation, which doesn't break the bank. It's ideal for business purposes as well, since it has plenty of meetings space too.
Las Vegas Monorail station is conveniently located nearby, so you won't have to rent a car or spend cash on taxis, as traveling via a train is quick and easy. Las Vegas Convention Center and the Sands Expo Center are only a few blocks away from Mardi Gras Hotel, so you could even walk there, while taking in the Nevada sunshine.
The rooms in Mardi Gras Hotel are not your typical cramped-up budget hotel rooms, as they offer plenty of space with over 400 square-feet in size. There are plenty of room amenities too, such as a coffeemaker, cable TV with movies, ironing equipment, a refrigerator and high-speed Internet. Living rooms have a sofa and a coffee table too.
Bon Temps Café offers breakfast, lunch and dinner and you can also grab a bite at seasonal Fast Lane Breakfast Buffet.
Mardi Gras is not just a spacious hotel, but it also has many relaxation facilities as well. Take a dip in the pool or the hot tub and then get your tan on in the large decking area. The 24-hour casino is alive and well with over 50 video poker and slot machines. When you get tired of gaming, check out the Mardi Gras Bar, where you can try a new cocktail and watch the latest sports on the in-bar TV.
Guests can also use the laundry facilities provided by the hotel, complimentary shuttle transportation and if you need any help with tickets for Vegas shows or tours, then the hotel staff will be more than glad to assist you.
Whether you're visiting Vegas for business or pleasure purposes, Mardi Gras Hotel & Casino is a great choice for both and will no doubt provide a quality stay.
Mardi Gras Hotel & Casino Las Vegas Details:
Address: 3500 Paradise Rd Las Vegas, NV, 89169, United States of America.
Total number of rooms: 314 rooms.
Entertainment: None.
Food and Drinks: Bon Temps Cafe, Fast Lane Breakfast (seasonal) and Mardi Gras Bar (snacks only).
Clubbing: 24-hour Mardi Gras Bar with Saturday night karaoke.
Gambling: 2,000 square-feet casino with video poker and slot machines.
Sportsbook: None.
Resort Attractions: None.
Shopping: None at site, however numerous Vegas shopping malls are nearby.
Health & Fitness: Not available.
Pool: An outdoor pool with a hot tub and a decking area.
Spa: Not available.
Weddings: No wedding services.
Business Center: Copying/printing/faxing facilities are available at the lobby.
Conference Rooms: Over 3,500 square-feet of meetings space with catering services and audio-video equipment.
Car Park: Free parking lots provided.
Wheelchair Access: Yes.
Mardi Gras Hotel & Casino Las Vegas Photo Gallery: