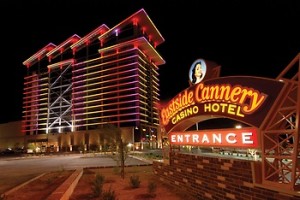 Eastside Cannery Casino & Hotel is located just 7 miles away from the Las Vegas Strip, as well as McCarran Airport. While it's a fair distance away from the busy downtown Las Veags area, however you don't ever have to leave the hotel premises, if you want to enjoy some casino gaming or just relax your body in a private pool cabana.
The hotel stands out from the crowd on Boulder Highway with its 16-story industrial looking design and a pretty interesting roof line featuring 4 huge tiles stacked on top of each other.
There are a total of 307 rooms available at Eastside Cannery, including suites, which feel modern and cosy, while also offering all the basic amenities you would expect. Spacious rooms have cable TV, Internet access and a fridge.
Eastside Cannery Casino is a massive 65,000 square foot in size, with over 2000 slot machines, more than 20 different table games, a sportsbook, a poker room and a bingo hall. Clearly you're bound to have a great time without even leaving the hotel, which is very convenient, especially when you also have numerous dining venues available as well.
You've got Carve restaurant, which specializes in Mediterranean food, Snaps is for your traditional meals, and when you want to have some fun, then head to One Six Lounge or the Pin-Ups Bar for delicious cocktails and other beverages.
The resort also features Casablanca Room, which is an 18,000 square foot host of various matches, including boxing, martial arts and wrestling, so make sure you don't miss any of the action, when the room gets busy.
Overall, Eastside Cannery provides an excellent Vegas experience without breaking the bank, yet if you're still keen to visit the famous Strip, then it's only a short drive away.
Eastside Cannery Casino & Hotel Details:
Address: 5255 South Boulder Highway, Boulder Strip, Las Vegas, NV 89122, United States of America.
Total number of rooms: 307 rooms, including suites.
Entertainment: Pin-Ups Bar and Marilyn's Lounge feature live music, Casablanca Room hosts various sports matches and concerts.
Food and Drinks: Carve, Deli, Snaps and Cannery Row Buffet.
Clubbing: One Six Lounge.
Gambling: Casino area of 65,000 square feet, including 2000+ slot machines, 20+ table games, a bingo hall with 450 seats and a poker room.
Sportsbook: 15 large screens, 75 seats and 75 individual TVs.
Resort Attractions: None.
Shopping: A gift shop is available.
Health & Fitness: Not available.
Pool: A pool with a Jacuzzi and private cabanas.
Spa: Not available.
Weddings: No wedding services.
Business Center: None.
Conference Rooms: A meeting space of 20,000 square feet and a ballroom.
Car Park: Free parking lots provided.
Wheelchair Access: Yes.
Eastside Cannery Casino & Hotel Photo Gallery:
More Las Vegas Hotels You Might Like