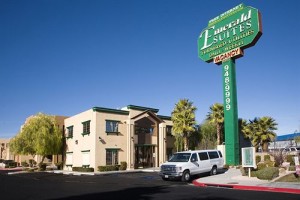 Emerald Suites South hotel is located on the south end of the Vegas Strip, about 6 miles from McCarran International Airport. It's also only a few miles away from the famous Mandalay Bay resort, which packs tons of entertainment and fine dining venues. All of the above make Emerald an excellent choice for business ventures as well as travelling needs for Vegas visitors.
As you would expect, the staff is very professional and highly trained, so if you need any help to make your stay at Emerald more enjoyable, then have a chat with one of the staff members, who will be glad to assist you. On top of that, it's rare to see a pet-friendly hotel in Vegas, yet at Emerald there's actually a dedicated building for travelers who have pets with them.
When it comes to accommodation, you get a choice between 1 or 2 bedroom suites. The rooms are comfortable and spacious. You certainly don't feel like you're in a budget hotel, especially considering that the suites come with a fully equipped kitchen, air conditioning, your own fridge and microwave, cable TV and high-speed Internet access.
Emerald Suite South also has a bunch of amenities that you should definitely check out. Start with the outdoor heated pool and a whirlpool, get a workout in the fitness room and then sort out the things that matter in the business center.
No one comes to Vegas just to look around – we all want to try the exotic eateries, buy something special for ourselves and just have a great time. You'll be pleased to find out that Las Vegas Premium Outlets (South) are very close to Emerald, as well as numerous cafes, so you won't have to go too far from the hotel to get the most out of your stay.
Emerald Suites South Las Vegas Details:
Address: 9145 Las Vegas Blvd S Las Vegas, NV, 89123, United States of America.
Total number of rooms: 396 rooms.
Entertainment: None.
Food and Drinks: Del Taco and Capriotti's Sandwich Shop located nearby.
Clubbing: Not available.
Gambling: Not available.
Sportsbook: None.
Resort Attractions: None.
Shopping: None at the resort, however Las Vegas Premium Outlets (South) are nearby.
Health & Fitness: A fitness room is available.
Pool: An outdoor heated pool and a whirlpool.
Spa: Not available.
Weddings: No wedding services.
Business Center: Available.
Conference Rooms: 600 square feet of space for meetings is available.
Car Park: Free parking lots provided.
Wheelchair Access: Yes.
Emerald Suites South Las Vegas Photo Gallery: