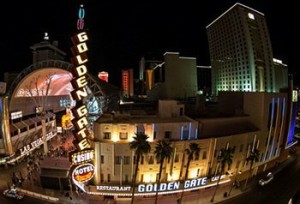 If you want to make the best of your stay in downtown Las Vegas why not consider the Golden Gate Hotel & Casino? It's situated in the ever-popular Fremont Street Experience and gives visitors modern-day amenities in exclusive accommodations.
What's even more intriguing about staying at the Golden Gate Hotel & Casino is its personalized service and very unique history. The roots of the Golden Gate date back to the very start of Las Vegas. The land it resides on was purchased at an auction in the early 1900's.
A year later the hotel opened, but was first named Hotel Nevada. It is the same building structure that now has the name Golden Gate, but the property has undergone many changes, including a twelve million dollar expansion.
The Golden Gate's casino has recently been refurbished and enlarged, so visitors get to walk on new carpet and have more playing space to enjoy. More slot machines have been added and three blackjack tables in a high-limit area. The casino has a more revelry environment due to the modern flappers from the Jazz Age, also known as their signature 'dancing dealers.'
In addition to new carpet and expanded floor space, the restrooms also underwent a renovation and now feature life-size forms; a gangster on the men's room and a flapper on the women's room. No more getting confused as to which bathroom is for which gender.
A lobby was created to showcase the history of the Golden Gate with exhibits. Look at the 1907 Kellogg telephone, old gaming ledgers that date all the way back to 1907, the liquor bottles that were used in older days and so much more.
The guest rooms, 106 of them, have also been remodeled to match the appeal of the entire hotel. Like to stay somewhere with valet parking? The Golden Gate Hotel & Casino features a five-story, 35,000 square foot tower with a porte cochère. You will find 16 generously sized suites; 2 of them are penthouses. These suites make up the entire 5th floor –  to give you an idea of how large they really are.
The amenities are everything you need, and then some. Enjoy pillow-top mattresses (who doesn't like a good night's rest), a 32-inch flat screen LG TV, a safe (to protect your valuables), a Keurig coffee maker, wireless internet and even a docking station for your iPod. Each suite features a balcony with a beautiful view and fire pits.
The existing decor of the Golden Gate pays tribute to past inspirations, integrating the Rat Pack-era and Roaring 20's all throughout the property; including in the rooms. This makes more sense when you understand the history of the Golden Gate which had famous guests in the past like Clark Gable, and there is an image on a second-story window of him in tribute. Other famous guests included Sammy Davis Jr. and Frank Sinatra; both frequent visitors of the casino bar, now named Bar Prohibition that has an ambiance unlike any other. You will also find two more bars distinctively themed; One Bar which features bikini-clad bartenders and countertop dancing, and the Flair Bar where it's not uncommon to see bottles flying around.
The dining at Golden Gate is best known for its shrimp cocktail that comes served in a tulip sundae glass. First available in the late 1900's for only 50 cents, visitors can order the cocktail for $2.99 at Du-par's Restaurant and Bakery. Both locals and visitors adorn this place regularly and enjoy the traditional down-home cooking.
You are sure to enjoy your downtown Las Vegas stay at the Golden Gate where history melds with contemporary to provide a luxurious place to relax and have fun while visiting the never-sleeping town of Las Vegas.
Golden Gate Hotel & Casino Las Vegas Details:
Address: 1 Fremont St Las Vegas, NV, 89101, United States of America.
Total number of rooms: 122 rooms.
Entertainment: Fremont Street Experience.
Food and Drinks: Du-Par's Restaurant & Bakery.
Clubbing: Bar Prohibition!, the One Bar and the Flair Bar.
Gambling: Golden Gate Casino features numerous slot and video poker machines, blackjack, roulette and craps, as well as the famous "dancing dealers".
Sportsbook: William Hill sportsbook.
Resort Attractions: None.
Shopping: A small souvenirs shop.
Health & Fitness: Not available.
Pool: Not available.
Spa: Not available.
Weddings: No weddings services.
Business Center: None.
Conference Rooms: Not available.
Car Park: Free valet parking.
Wheelchair Access: Yes.
Golden Gate Hotel & Casino Las Vegas Photo Gallery: