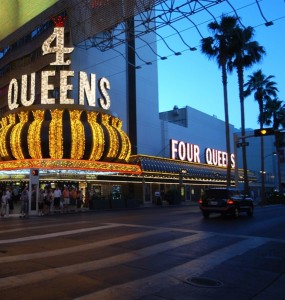 To get a look at historic Vegas and the original glamour of the place, you need to head downtown. It is there you will find the Four Queens Hotel & Casino, at the intersection of Casino Center Boulevard and Fremont Street. There are big changes being made to that specific part of the city, with the dazzling lighted canopy of the Fremont Street Experience just one small part of the exciting things happening downtown right now. You just need to take a short trip away from the Strip to see that not all the action in Las Vegas is contained in the one single street.
The Queens has been transformed into a chic spot that highlights the advances being made in Vegas hospitality, yet still finds a way to retain the history and charm that has made this location a great place to visit and stay since its doors were opened in 1966. The exterior of the Queens is alive with neon colors, while the interior uses marble and mirrors to make you feel as though you have stepped back in time to a more elegant, charismatic version of Vegas.
Each of the almost 700 rooms and suites in the Queens are decorated in a timeless style that embraces comfort and hospitality. The pool is a perfect place to relax, while the Canyon Club is home to all kinds of great performers. The club interior has a truly relaxed style, with large sofas and coffee tables spread out through the intimate space. You can usually catch a live band on the weekends, while Mike Hammer shares his unique mix of magic and comedy to packed houses before the music kicks off.
While restaurants have a tendency to come and go, Hugo's Cellar is one that has been a part of the Four Queens since day one. The dining experience is another throwback to the Vegas of old, with all of the female diners given a beautiful red rose as a token of appreciation. Hugo's features an upscale menu and still offers guests the opportunity to have their salads prepared tableside.
If it's a great meal and a fantastic deal you are looking for, look no further than Magnolia's Veranda, a 24-hour eating spot with the legendary $9.95 prime rib special. Not all of the eateries have been there as long as the hotel has, though, with the Chicago Brewing Company one of the newer entries at the Four Queens. A selection of great beers can be found on tap, and the pizza is to die for. There is also a nice selection of snack food places to be found in the hotel, too, which is perfect for those looking for a quick bite to eat.
There are plenty of table games to choose from in the casino, as well as video poker machines and slots that are constantly being updated to feature the hottest games. Cold beverages are available at any of the numerous bars spread out through the casino, but the center bar located by the main doors is where you should hang around, if you want to take in all the action. There is also an outdoor bar available at night that is perfect for those looking for a cool brew after a long day under the desert sun.
The Four Queens is the place to stay if you want to be in the heart of downtown and get a real feel for the ever changing face of Las Vegas.
Four Queens Las Vegas Details:
Address: 202 Fremont St Las Vegas, NV, 89101, United States of America.
Total number of rooms: 690 rooms.
Entertainment: Mike Hammer Comedy Magic.
Food and Drinks: Hugo's Cellar, Chicago Brew Pub, Magnolia's Veranda and the Four Queens food court.
Clubbing: Chicago Brewing Company.
Gambling: 32,000 square feet casino, including all famous Vegas games, like Caribbean Stud Poker, Pai Gow Poker, Craps, Slots, Roulette, Megabucks and others.
Sportsbook: Available.
Resort Attractions: None.
Shopping: A gift shop is available.
Health & Fitness: Not available.
Pool: Not available.
Spa: Not available.
Weddings: No weddings services.
Business Center: Yes.
Conference Rooms: Small meetings can be arranged.
Car Park: 5-story garage parking.
Wheelchair Access: Yes.
Four Queens Las Vegas Photo Gallery: