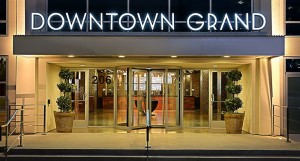 What was once known as the Lady Luck in downtown Las Vegas is now home to the Downtown Grand. Located on Thirds Street between Ogden and Stewart, the redeveloped Downtown Grand is a luxurious addition to the downtown scene.
There is no denying the excellent location of the hotel, as it sits in close proximity to attractions like The Mob Museum and the Fremont Street Experience. Staying there also puts you just a short stroll from all the excitement of the Fremont East Entertainment District, as well as being a short ride from the Las Vegas Premium Outlets-North. If you want to catch a show at The Smith Center for the Performing Arts, you are also perfectly located.
The best way to describe the style of the totally renovated interior is industrial chic. A number of reclaimed materials and original elements were put in place to make the 30,000 square foot casino look unlike anything else in the area. That space hold 30 table games, over 600 of the hottest slot games, and a race and sports book that let you bet on all the big games. The Grand Downtown is also home to the only legal street gaming experience in the city. The game is called cee-lo and is essentially a street version of craps, with the dice thrown against the wall instead of on a table.
The Downtown Grand would not be considered a Vegas style hotel if great dining were not on offer. The good news is that they have plenty to love in that regard. The Stewart + Ogden bistro, named after the famous city duo of Archibald Stewart and Peter Skene Ogden, has a delicious menu that is served during breakfast, lunch, and dinner.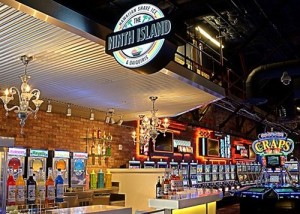 If your tastes run a little more to the exotic, the Red Mansion Chinese Restaurant is there to tantalize your taste buds. Take a little trip back in time with a visit to The Spread New York style deli or get tropical with a Hawaiian shaved ice and daiquiri bar called The Ninth Island. There are also plenty of other food options available when you visit The Commissary food court.
Depending on the season, you might also have access to the Picnic, which is described as an "Urban Rooftop Pool Retreat." It sits on the fifth floor and has a sparkling pool, fire pit, and private cabanas where you can relax in peace. It's a great place to relax, but also a spot where you can drink, play, and have some fun. There are always cool events on the calendar at Picnic, including concerts, movie screenings, and even bocce ball tournaments where you can test your skills against other guests.
When the sun sets, head downstairs and take in the excitement of a pair of casino bars names Furnace and the Mob Bar. That latter is a throwback to the years of the speakeasy, with cool cocktails and Italian food items that would have been gangster approved.
More than just a place to play, the Downtown Grand is also a great place to stay. The new spot is now part of the Ascend Hotel Collection and features a pair of towers that are connected by an elevator walkway. Combined, there are a total of 629 rooms and suites which come in all kinds of different shapes and sizes.
Sumptuous style is what's on offer in the base-level deluxe room, where pastel shades and ambient lighting create a perfectly modern look. The premium rooms are larger in size, with each one home to a corner spot that delivers stunning vistas. Deep red is the color palette that these rooms have been brushed with.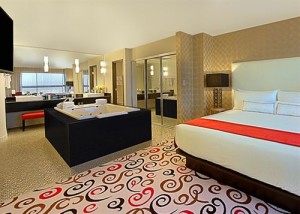 There are also a total of 23 petite suites, as well as a pair of grand suites. These are fully loaded units filled with amenities that guests are sure to love. There are pillowtop mattresses for the ultimate in comfort, flat-screen TV's for your entertainment needs, and contemporary bathroom spaces that use environmentally friendly products, whilst making sure that you feel completely comfortable and pampered.
The Downtown Grand is just one small element in what is going on in this thriving neighborhood. Referred to as Downtown 3rd, or DT3, the surrounding area will be a pedestrian friendly spot with entertainment always on tap. A host of great dining spots have already set up shop there, with many more set to come in the future. When all is said and done, DT3 will have almost 20 different bars and restaurants, offering up a wild variety of entertainment options, and all in the shadow of the Downtown Grand.
Downtown Grand Las Vegas Details:
Address: 206 North 3rd Street Las Vegas, NV, 89101, United States of America.
Total number of rooms: 629 rooms.
Entertainment: None.
Food and Drinks: The Spread, Stewart + Ogden, Ninth Island, Red Mansion Chinese Restaurant, Mob Bar & Picnic, The Commissary, Urban Rooftop Pool Retreat (seasonal).
Clubbing: 3 bars – Mob Bar, Furnace, Art Bar.
Gambling: Casino area of 30,000 square foot, featuring 600 slot machines, over 30 table games and the only legal "street gaming" experience in Vegas.
Sportsbook: Available.
Resort Attractions: Downtown 3rd experience, The Mob Museum, Fremont Street Experience and Fremont East Entertainment District.
Shopping: None at the site, however numerous shops are available on Fremont Street, which is a few minutes walk from the hotel.
Health & Fitness: Fully-equipped fitness center.
Pool: An outdoor rooftop pool with cabanas (seasonal).
Spa: Not available.
Weddings: No wedding services.
Business Center: Printing/faxing/mailing services are available at reception for a fee.
Conference Rooms: Meeting facilities for up to 1,500 people, featuring the Grand Parlor and Picnic.
Car Park: On-site garage parking.
Wheelchair Access: Yes.
Downtown Grand Las Vegas Photo Gallery:
More Las Vegas Hotels You Might Like