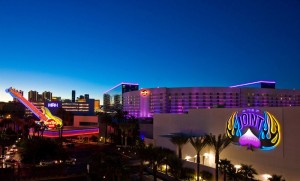 Las Vegas is known as being something of a party town, and there is no better place to get in on that kind of fun than at the Hard Rock Hotel & Casino. This is a place where the party never stops for the young and the young at heart.
The hotel is situated just a few blocks east of the Strip, and while you can walk there, it easier to cab it there. The Hard Rock is the place to be for music, dancing, and good times, as it is home to a concert venue, killer nightclub, amazing pool areas, and great food.
The Hard Rock Hotel & Casino may be considered the old kid on the block, as it was built in 1995, but like The Rolling Stones, it just keeps on rockin'. There have been some additions made to the original structure, including the Paradise Tower and the HRH Tower, which is home to nothing but luxurious suites.
As you might imagine, live music is very much at the heart of the Hard Rock, with big name acts like Bon Jovi, Paul McCartney, and The Killers bringing their talents to The Joint stage.
The music venue underwent a recent facelift, and is now able to comfortably seat 4,000 patrons. The lighting, projection, and sound systems in the building are unlike anything you will have ever experienced before. If you want to see your favourite music act live, this is the place to do it.
New to the Hard Rock is Vinyl, an intimate entertainment venue that hosts a variety of different acts, many of whom are local.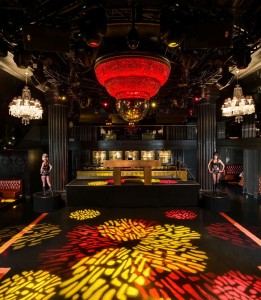 If you are in the mood for a little clubbing, you need to check out Body English. This is a venue that pulsates with the newest pop, rock, and electronic sounds, with the whole place swathed in leather and lit by chandeliers. The other club, Vanity, only opens for special events, but it too is a beautiful looking spot with a chic interior.
You don't have to hit the clubs to have a party, though, as there are plenty of bars throughout the resort where you can have fun and get your drink on. There are a pair of circular bars on the property: The Center Bar in the original tower, and the Luxe Bar, which can be accessed via the HRH Tower.
The Ainsworth at the Hard Rock Hotel & Casino is a great place to eat and catch the big game. There are big screen TV's all through the establishment, and you can grab a signature cocktail and some classic American food while you take in all the sports action.
The party is taken up a notch during the summer months, which is when the Rehab pool party is in full swing. The Hard Rock is where the Vegas pool party was born, and it's still the place where guests party the hardest. There is drinking and dancing, DJ's spinning the hottest tunes, and a total party atmosphere in the pool area where waterfalls, cabanas, and sandy beaches make you feel as though you are in some tropical paradise.
You can even gamble at the pool, with swim-up tables available. A quitter, calmer time can be had at the Nirvana and Breathe Pools, or you can take relaxation to a whole new level at the Reliquary Spa.
There are some spectacular dining options to be found in the resort, including the modern Japanese cuisine at Nobu. For a totally unique dining experience, you need to check out Fu, where Asian fusion dishes are on the menu, as well as a stunning array of signature cocktails.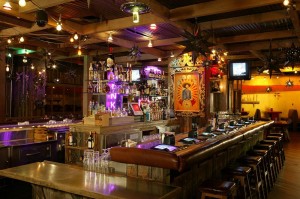 If you don't feel like getting dressed up for dinner, you have the option of some great casual dining spots like the legendary Pink Taco. Even more laid back is Mr. Lucky's Café, which is open 24-hours to serve coffee and other delicious treats. You won't see it on the menu, but be sure to ask about the $7.77 steak, shrimp, and potatoes meal.
The perfect combination of drinks and pub fare can be found at Sam Fox's Culinary Dropout. Located near the pool, you will find fried chicken and biscuits, plus a host of other comfort food items and cool cocktails.
It's usually a young crowd that hangs out at the Hard Rock, and the shopping options are very much geared towards that crowd. Rocks The Jeweler has some cool bling, Love Jones has sexy lingerie, and John Varvatos has a stunning selection of men's wear. If you want to get some new ink on your trip, be sure to stop by The Hart & Huntington Tattoo Co.
One of the big highlights of any visit to the Hard Rock is being able to check out all the rock 'n' roll memorabilia that lines the walls throughout the hotel. You will see instruments that were played by some of the biggest names in music, as well as iconic outfits, gold records, and a host of other goodies that will make you feel as though you have been transported to the rock 'n' roll Hall of Fame.
There is always a party going on in Las Vegas, but it's safe to say that there are few places that can match the scale and excitement of what the Hard Rock Hotel & Casino offers.
Hard Rock Hotel Las Vegas Details:
Address: 4455 Paradise Rd Las Vegas, NV, 89169, United States of America.
Total number of rooms: 1500, including HRH Towers rooms.
Entertainment: The Joint and The Vinyl, both featuring live music of famous acts and local bands.
Food and Drinks: Pink Taco, 35 Steak + Martinis, Fu, Culinary Dropout, Mr Lucky's 24/7, Nobu, Juice Bar, Fuel Cafe Express and Starbucks.
Clubbing: Body English, Center Bar, Ainsworth, Luxe Bar and Vanity (for special events and parties only).
Gambling: Multiple table games, including blackjack, slots, craps, pai gow poker and many others. Peacock High-Limit Gaming area is available at HRH tower and Asian gaming amenities called Dragon Salon.
Sportsbook: Cantor Race & Sports Book, featuring multiple HD TVs and plasma screens.
Resort Attractions: The hotel is decorated with rock'n'roll memorabilia throughout the premises, giving it that unique sleek look.
Shopping: John Varvatos, Love Jones lingerie boutique, Hart and Huntington Tattoo, Affliction, The Hard Rock Store and Rocks – The Jeweler.
Health & Fitness: Hard Rock Fitness Center.
Pool: Beachlife pool area featuring 3 pools – Nirvana, Breathe and Paradise Beach, which hosts Rehab Sunday pool parties.
Spa: Reliquary Spa located in HRH Tower.
Weddings: Weddings venues can be arranged, however there's no chapel available.
Business Center: Available.
Conference Rooms: 60,000 square feet of meetings space.
Car Park: 2 parking garages, as well as valet parking.
Wheelchair Access: Yes.
Hard Rock Hotel Las Vegas Photo Gallery:
More Las Vegas Hotels You Might Like