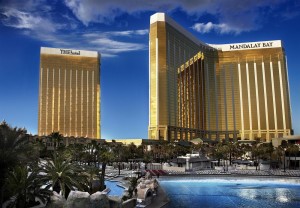 The Mandalay Bay resort is almost like a tropical oasis found in the heart of the Nevada desert. This oasis is one that is brimming with luxury, whether you choose to stay in one of the main towers or in the decadent suites at THEhotel.
Located at the southern end of the Strip, the Mandalay Bay is a short hop from the iconic "Welcome to Fabulous Las Vegas" sign. The hotel is home to a world of exciting entertainment, from live shows to dining, as well as having an incredible casino floor with an amazing selection of games.
Situated on a massive 120-acre lot, the resort welcomes everyone. You are just as likely to see a high-powered businessman as you are a happy family, all of whom chose the resort because of its world-class features and amenities. Major concerts and boxing matches can be seen in the 12,000-seat Mandalay Bay Events Center, whilst business meetings, big and small, are held at the multi-story, expansive Mandalay Bay Convention Center.
Smaller concert venues can be found in the resort, including the House of Blues and the Foundation Room, which occupies a lofty perch on the 43rd floor.
The magic of Cirque du Soleil can be seen in the "Michael Jackson ONE'" show, an event that was put together in part by the Jackson estate. The show focuses on four misfits who embark on an adventure that end with spirit of harmony and a better world, all of which is surrounded with the music of the King of Pop.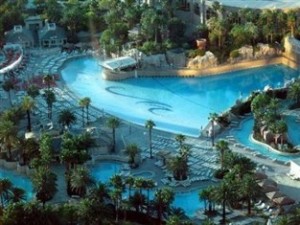 Part of the tropical theme of the resort includes the stunning Mandalay Bay beach, an 11-acre water complex that houses thousands of tons of sand. The beach-style area also houses 4 different pools, including an exciting wave pool, a lazy river for relaxation time, and a number of private cabanas where the ultimate in luxury and pampering can be found.
If you head outdoors during the summer months, you are likely to find live concerts taking place. You can also get your gaming action on at the Beachside Casino, as well as being able to grab a drink and a bite to eat at the Beach Bar & Grill. If you want to escape the kids in the pool area, head on over to the Moorea Beach Clubs, where you will find dipping pools, daybeds, and a great poolside bar.
There is plenty of water to be found indoors, too, as the Shark Reef is one of the top attractions on the Las Vegas Strip. The 1.6 million gallon aquarium is one of the largest of its kind in the world, and is home to all kinds (more than 2,000) of amazing animals. As well as the marine life on show, you will also be able to get a look at a very rare Komodo dragon.
In a resort of this size, you would expect to find a few places to eat, but how about more than 20 different amazing restaurants to choose from? All of your taste buds can be tickled, with your choice of fast food options, all the way up to gourmet meals. If it's seafood you are after, you must try Chef Rick Moonen's RM. There you will find all kinds of amazing seafood on the menu, as well as a stunning sushi/raw bar. Head upstairs and you will discover the steampunk-themed RX Boiler Room.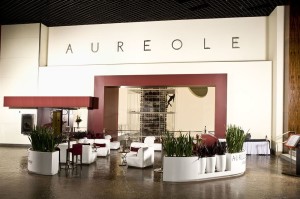 Even if you aren't hungry, you need to stop by Chef Charlie Palmer's Aureole, if only to get a look at the 4-storey wine tower. You can view the scene from above from the outside, where you may just catch a glimpse of the "wine angels" choosing bottles for the customers. Lovers of the environment will get a kick out of the sustainable menu options on offer at Stripsteak by Chef Michael Mina.
Culinary innovation is always on display at Kumi Japanese restaurant, where Chef Toshiyuki Motoyama shows off his skills. A little slice of Mexican cuisine can be found at the laid back Border Grill, while true American classics can be had around the clock at the Citizens Kitchen and Bar.
Casual is the order of the day at the likes of The Noodle Shop, the Burger Bar, Slice of Vegas, and Ri Ra Raffles Café. Like a very great Vegas resort, Mandalay Bay is home to a spectacular buffet that features an incredible assortment of food that you can load up your plate with, over and over again.
With so much food on offer, you may need to get a little bit of exercise in order to burn off those extra calories, and what better way to do so than by dancing the night away? Not only can you get your groove on at Eyecandy Sound & Lounge Bar, you can also send messages and pictures to other patrons in the bar by using the cool touch tables.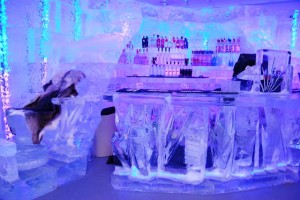 If you head over to THEhotel, you will be able to take in the great entertainment and stunning views at Mix Lounge. For something totally different, try Minus 5 Lounge, where ice is everywhere you look, from the seating to the glasses that you drink out of. Step back in time when you walk through the doors of 1923 Bourbon & Burlesque.
Another ice bar can be found in Red Square, as can over 200 different varieties of vodka. Cirque du Soleil is also part of the nightclub scene with the Light club, the place where music and performance art combine in a club setting.
You will never miss a big game when you sit in the 300-seat race and sports book. There are 17 giant TV's showing all the action, and you can even grab a bite to eat at the Sports Book Grill.
With so much excitement on tap around the clock, you may need some time to relax, and there is no better place to do that than at the spa. Mandalay Bay has two to choose from: Spa Mandalay and the Bathhouse at THEhotel.
Fitness fanatics can stay in shape while on vacation by paying a visit to the Cardio Center. Another cool option available to guests and visitors is the chance to get inked at the House of Blues. There you will find tattoo artist Mario Barth and his Starlight Tattoo parlor.
If you are looking to give your credit card a bit of a workout, Mandalay Bay is the place to do it. The resort is home to an incredible collection of stores, all of which are housed in the Shoppes at Mandalay Place. There are even more shopping options to be found when you take the 100,000 square foot sky bridge that connects Mandalay Bay and the Luxor hotel. There are a tone of great stores to be found, including the largest Guinness-themed store outside of Ireland.
There are other amenities to be found inside the resort, including a wedding chapel, a poker room, a massive casino floor that's home to all of the newest slots and games. If you want to jump to another hotel for a visit, you will find a tram line that runs between Mandalay Bay, Luxor and Excalibur.
The rooms at Mandalay Bay have been designed to make you feel that you are living in a home away from home. The design of the rooms is modern and comfortable, and you will find all of the amenities that you need to make your stay there a pleasant and comfortable one.
There are plenty of hotel choices to be found along the fabulous Las Vegas Strip, but few have all of the features and amenities that Mandalay Bay does. You could spend your entire vacation inside the resort and still not manage to take in all that it offers, which is why it is one of the top destinations in all of Las Vegas.
Mandalay Bar Las Vegas Details:
Address: 3950 Las Vegas Blvd S Las Vegas, NV, 89119, United States of America.
Total number of rooms: 3,309 rooms.
Entertainment: "Michael Jackson ONE" by Cirque  du Soleil, live concerts at the Mandalay Bay Events Center, live music at the House of Blues.
Food and Drinks: Border Grill, House of Blues, Mizuya, Aureole, Citizens Kitchen and Bar, Beach Bar & Grill, Kumi Japanese Restaurant and Bar, Bayside Buffet, Lupo by Wolfgang Puck, Fleur by Huber Keller, The Noodle Shop, Stripsteak, Red Square, Raffles Cafe, Rick Moonen's RM Seafood, The Burger Bar, RX Boiler Room, Ri Ra, Slice of Vegas and Hussong's Cantina.
Clubbing: Eyecandy, Light, Foundation Room, House of Blues, Minus 5, 1923 Bourbon & Burlesque by Holly Madison and Mix Lounge (located in THEhotel).
Gambling: Casino area of 135,000 square-feet, featuring over 2000 video and slot poker machines, more than 120 table games (including blackjack, roulette, pai gow poker, slots, craps, etc) and a poker room.
Sportsbook: 300 seats with 17 large screens and 84 TVs.
Resort Attractions: Shark Reef aquarium with over 2000 animals and Rock 'n' Roll Fantasy Camp.
Shopping: The Shoppes at Mandalay Bay Place (over 40 shops), Davidoff, Pearl Moon Boutique, Oro Gold, Be Jeweled, Jungle Juice, House of Blues gift shop, M Logo Store, Fight Museum and Jack Gallery.
Health & Fitness: State of the art fully equipped fitness center at 3,000 square-feet, including personal training, and THEhotel fitness club.
Pool: Mandalay Bay Beach at 11 acres, includes 3 pools, Moorea Beach Club (over 21′s only), a lazy river and a massive wave pool with a sand beach.
Spa: 30,000 square-foot Spa Mandalay with a full-service salon and 21 treatment rooms, and 14,000 square-foot Bathhouse Spa at THEhotel.
Weddings: THEwedding chapel offers a number of weddings packages.
Business Center: Available.
Conference Rooms: 1.8 million square-foot convention center.
Car Park: 6-story garage parking.
Wheelchair Access: Yes.
Mandalay Bay Las Vegas Photo Gallery: