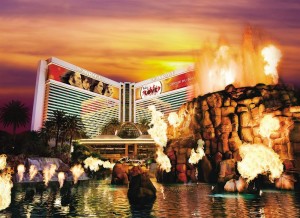 For a taste of the tropics and a place where you are guaranteed to have a blast, you need to head to The Mirage in the heart of the Las Vegas Strip. The Polynesian palace in the desert is home to fantastic accommodations, fine dining, pulsating nightclubs, and live entertainment that is sure to get your Vegas party started right.
The Mirage continues to draw visitors despite the fact that it's relatively old by Las Vegas standards. They are able to do that by always finding a way to stay current, with the 1 Oak Las Vegas nightclub being the perfect example of that. Don't be surprised if you spot a celebrity or two in the 16,000 square foot entertainment space. 1 Oak boasts a pair of different rooms, both of which have a bar and a resident DJ. The music is loud and the drinks are delicious as the party goes on into the early hours of the morning.
Cirque du Soleil have left their fingerprints over a number of different resorts in Vegas, and the Mirage is truly blessed to have been touched by them. The Beatles "LOVE" show has played to packed audiences for 5 years now, with the show featuring daring acrobatics and stunning visuals, all set to the timeless music of the Fab Four. This is a show that is designed to touch all the senses.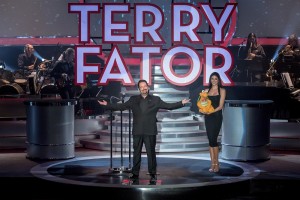 It doesn't really matter what type of entertainment you love the most, as you can be assured that The Mirage has all the bases covered. The whole family will love Terry Fator and the crazy characters that make up his ventriloquist act. There are also laughs aplenty to be found at the ongoing Aces of Comedy series, which has seen the likes of Daniel Tosh, Jay Leno, and Kevin James bring their talents to the resort.
When the ventriloquist dummies are packed away on the weekends, the Terry Fator theater comes to life with the silky smooth sounds of Boyz II Men.
The culinary treats that await visitors to The Mirage are truly magnificent. Chefs Jun Ichikawa and Gene Kato bring some eastern fare to Japonais, while Chef Brian Massie titillates the tongue at Stack Restaurant & Bar. Portofino delivers a delicious Italian experience, while Tom Colicchio puts his skills to the test at Heritage Steak, where you have the choice of having your meat prepared over charcoal or in a wood-burning oven. There is no wrong choice between those two options.
If you are a fan of "Iron Chef America," you will want to stop by Morimoto Las Vegas. There you will find the succulent sushi creation of Iron Chef Masahuru Morimoto.
There is literally somewhere fun and exciting to eat everywhere you turn, but among the most enticing are the smells that waft our across the casino floor from Samba, a Brazilian steakhouse. Some of the biggest sandwiches you have ever seen can be had at the Carnegie Deli, while BLT Burger serves up juicy patties and 5 different kinds of fries. The Paradise Café has plenty of tasty treats for those in a hurry, and you can load up your plate many times over at Cravings buffet.
If you want to get your drink on closer to street level, you need to hit Rhumbar, which has an outdoor patio overlooking the fabulous Las Vegas Strip. It truly is the perfect spot to kick back with a cool cocktail. Another great drinking spot is the Lobby bar, where you can hang out and watch everyone come and go.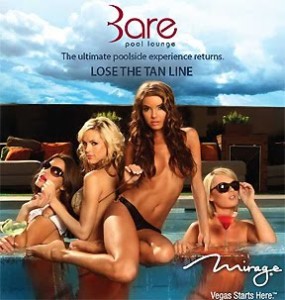 In order to take relaxation to the next level, you need to hit the glorious tropical pool setting at The Mirage. Adult fun can be had at the Bare Pool Lounge dayclub, while pampering can be taken to the extreme with a visit to the Spa and Salon.
You cannot pay a visit to The Mirage without going out onto the Strip and watching the iconic Mirage volcano erupt. Grateful Dead drummer Mickey Hart and international music sensation Zakir Hussain got together to create a stunning soundtrack to accompany the visual magic of the eruption. There are more stunning sights to see on the inside of the hotel, with plants and flowers blooming in brilliant color from floor to ceiling. There is also a massive floor to ceiling aquarium that holds almost 1,000 different varieties of marine life.
Another nature exhibit that you will want to take in before you leave include Siegfried & Roy's Secret Garden and Dolphin Habitat. Both locations were built to entertain and educate, as well as to create a special home for bottlenose dolphins, golden tigers, beautiful white lions, and more.
The Mirage is also home to a magnificent casino floor that has games to suit every taste. There is also a huge race and sports book, complete with an 85×16 foot projection display. You will also find a 30-table poker room for even more gaming fun.
You'll forget that you are in the middle of the Nevada desert when you stumble into the tropical oasis, that is The Mirage.
Mirage Las Vegas Details:
Address: 3400 Las Vegas Blvd S Las Vegas, NV, 89109, United States of America.
Total number of rooms: 3,044 rooms.
Entertainment: The Beatles "LOVE" by Cirque du Soleil, Terry Fator show, The Aces of Comedy acts and Boyz II Men.
Food and Drinks: Samba Brazilian Steakhouse, Japonais, Stack, Blizz Frozen Yogurt, Cravings, Stack, Roasted Bean, BLT Burger, Portofino, California Pizza Kitchen, Carnegie Deli,  Tom Colicchio's Heritage Steak, Dolphin Snacks, Morimoto and Paradise Cafe.
Clubbing: 1 OAK Las Vegas, Revolution Lounge and 2 bars (Rhumbar and the Lobby Bar).
Gambling: The Mirage casino features over 2000 slot  machines, a poker room and all the popular table games, including blackjack, roulette, let it ride, Caribbean stud poker, keno and others.
Sportsbook: 269 seats, includes numerous large HD TVs.
Resort Attractions: The Mirage Volcano, Siegried & Roy's Secret Garden and Dolphin Habitat.
Shopping: The LOVE Boutique, Paradiso, Misura, The Terry Fator Store, The Watch Boutique, Sugar Factory, The Art of Music, Optica, Kardashian Khaos and Starlight Tattoo by Mario Barth.
Health & Fitness: Mirage Fitness Center, featuring treadmills, free weights, weightlifting machines and a juice bar.
Pool: Bare Pool Lounge (seasonal) and Mirage Pool with a Jacuzzi.
Spa: Mirage Spa offering a range of spa services, including various massages and body treatments.
Weddings: Weddings at the Mirage can be organized.
Business Center: Available.
Conference Rooms: 170,000 square-feet of meetings space, hosting up to 5,000 guests.
Car Park: 8-story garage parking.
Wheelchair Access: Yes.
Mirage Las Vegas Photo Gallery:
More Las Vegas Hotels You Might Like