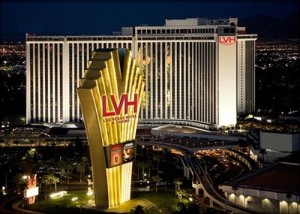 Located just off the strip, at 3000 Paradise Rd, on a sprawling 64 acres, the Las Vegas Hotel and Casino sits right beside the Las Vegas Convention Center. The LVH is situated just 3.5 miles from McCarran International Airport. The private monorail hub allows guests the opportunity to visit the strip, and other popular Las Vegas attractions. Ever since the LVH opened its doors in 1969, it has been committed to providing superior service and entertainment.
Since its inception, the LVH Theater has had a long tradition of A-list performers, including Barbara Streisand and Peggy Lee, who performed opening night. Then, starting in the summer of 1969, Elvis Presley performed 837 consecutive sold-out shows. During his eight-year run, the LVH became the King's home base, living in the penthouse suite, and performing for approximately 2.5 million people. Liberace was also known to grace the LVH stage, and have outrageous performances.
The LVH Theater continues in its tradition, and still provides high quality entertainment, including stars like Glen Campbell, Don McLean and Liza Minelli. In addition, honoring some of rock's greatest bands, "Raiding the Rock Vault" has regular performances.
For a more intimate setting, you can look for performances in the Shimmer Cabaret. Entertainment by MO5AIC, a five-man A cappella group, who has the amazing ability to sound like a full band. Other performances include late night stand-up, with Comedy After Dark, and Elvis tribute artist, Trent Carlini.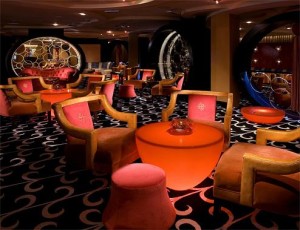 The Tempo Lounge provides a social atmosphere. Located just off the main casino floor, it provides a place to mingle and have a drink, before catching a show. The Tempo Lounge is also the ideal for putting on your dancing shoes and swaying to the music of the 70's, 80's, 90's, and today.
All the dancing and entertainment can work up an appetite, and the LVH has an array of exquisite restaurants that cater to any taste. If you are looking for an evening of upscale dining, try one of LVH's fine dining venues. On the other hand, if you would prefer a casual atmosphere, try one of several LVH casual dining restaurants, perfect for satisfying any appetite.
Benihana – known worldwide for their Japanese steakhouse cuisine, master chefs entertain you, as they cook on open hibachi tables. TJ's Steakhouse – pairing old Vegas with new, in a rich mahogany setting, TJ's offers high quality meats cooked to order. Teru Sushi – sit back, relax, while listening to waterfalls in the koi pond, and enjoy the fresh, authentic Japanese sushi combinations.
For casual dining, check out The Buffet- enjoy breakfast, brunch, lunch, and dinner in a traditional buffet setting, with a variety of flavors, from cuisines all over the world. Burger Bistro provides a truly unique burger experience, offering a plethora of burger combinations and served with a variety of tasty sides. 888 Noodle Bar offers a wide range of Pan-Asian noodle entrees, including Singapore, Udon, Sechuan, and Chow Mein.
Vince Neil's Tatuado Restaurant and Cantina – established by the legendary rock star, this is a fun place to socialize, over specialty margaritas while eating delicious food, with a Mexican twist. Paradise Café is open for breakfast, lunch, and dinner – this café has an assortment of appealing soups, sandwiches, and salads.
Whether you are looking to sit down and take a load off, or just grab a quick cup of coffee, the LVH has exactly what you are looking for.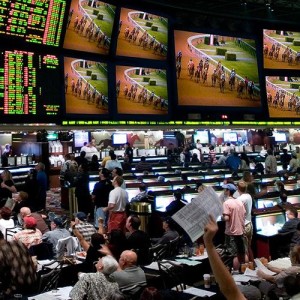 After refueling at one of LVH's restaurants, you may want to take in a game, or race, at the world's largest race and sports book, SuperBook. With the largest wagering menu in Nevada, the LVH SuperBook has over 350 seats and more than 60 viewing monitors. You can even watch your favorite team on 120 inch HD TVs in the Ultimate Fan Cave. It is okay if you are not into sports, the LVH has all the traditional Las Vegas games in their 74,000 square foot casino.
Relax in one of LVH's 3,000 rooms, once you have had your fill of gaming and entertainment. Each room is equipped with a 37 in plasma TV, high-speed wireless internet, and an in room safe to store your valuables. The beds are draped with extremely soft bedding, for the ultimate sleep experience.
Upgrade to a Resorts Club room and gain access to the exclusive Resorts Club Lounge on the 24th floor. With the upgrade, you receive complimentary breakfasts, snacks, and wine and cheese receptions for the duration of your stay. For the ultimate experience, stay in one of the luxury suites or sky villas.
The LVH features a Business Center – offers access to high-speed internet, PC rentals, faxing, copying, and any other business need. State of the art fitness center, featuring weight lifting machines, free weights, and cardio machines. Tennis courts – featuring six hard courts, with four lighted for evening games.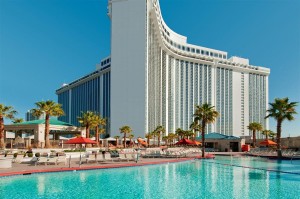 A pool, featuring a 25 seat Jacuzzi and 18 cabanas. The Cabana Bar holds regular happy hours and live entertainment. Spa at LVH offers a variety of pampering services, including massages, body scrubs, and cleansing facials. Regis Signature Salon has all of the typical salon services, including cuts, colors, manicures, pedicures, and facials. For all your shopping needs, there is a diverse array of retail shops, where you can find just about anything you need, or want.
These, plus concierge services, and an on-site car rental agency, are just a few of the amenities that LVH has to offer.
The LVH boasts nearly 200,000 square feet of space, perfect for meetings, trade shows, conventions, or receptions. There are fifteen dedicated conference rooms, two exclusive meeting rooms, and two boardrooms, for a combined total of nearly 10,000 square feet of meeting space. The Paradise Event Center has 70,000 square feet of open space, ideal for exceptionally large gatherings. The 35,000 square foot ballroom can provide an elegant backdrop for a reception, after getting married in the Chapelle de l'Amour.
Whether this is your first trip to Las Vegas, or you are a seasoned Vegas veteran, the Las Vegas Hotel and Casino has something for everyone. The LVH stands by its traditions in excellence, providing the perfect blend of old and new Vegas.
LVH – Las Vegas Hotel & Casino Details:
Address: 3000 S. Paradise Road Las Vegas, NV, 89109, United States of America.
Total number of rooms: 3000 rooms.
Entertainment: Elvis Presley tribute show – The King (starring Trent Carilini), Raiding The Rock Vault, Comedy After Dark and MO5AIC.
Food and Drinks: Fortuna, Teru Sushi in Las Vegas, Benihana, Paradise Cafe, 888 Noodle Bar, Vince Neil's Tatuado Restaurant & Cantina, The Buffet, TJ's Steakhouse, Burger Bistro, Superbook Deli, Chaise Snack Bar (seasonal) and the Food Court.
Clubbing: Tempo Lounge, Plaza Bar, Eighth Pole Bar, SpaceQuest Bar and Zen Bar & Lounge.
Gambling: Casino area of 74,000 square-feet, featuring blackjack, roulette, craps, pai gow poker, Megabucks, Wheel of Fortune and more. There's also a smoke-free gaming area.
Sportsbook: The world's largest sportsbook with 350 seats, 28 massive screens, one huge 15×20 foot screen, along with The Ultimate Fan Cave, a deli and a bar.
Resort Attractions: None.
Shopping: A number of shops available, including a beauty saloon, a gifts shop and a toys store.
Health & Fitness: LVH fully-equipped fitness center.
Pool: The Pool at LVH with a Jacuzzi.
Spa: The Spa at LVH offering all types of spa services.
Weddings: Chapelle de l'Amour has a number of weddings packages.
Business Center: Available.
Conference Rooms: Over 200,000 square-feet of meetings space.
Car Park: Six-story garage parking.
Wheelchair Access: Yes.
LVH – Las Vegas Hotel & Casino Photo Gallery:
More Las Vegas Hotels You Might Like