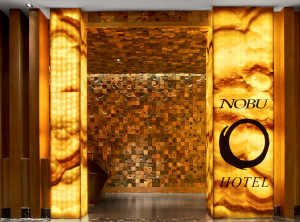 Nobu Hotel is a Japanese-style gem nestled inside Caesar's Palace. In the midst of the Roman surroundings, this luxury hotel offers a respite from the bustle around it. Robert De Niro and celebrity chef Nobu Matsuhisa own this relaxing escape that features the best in furnishings and personal service to all guests.
The wood block design of the Nobu Hotel lobby gives visitors a glimpse of the décor scheme that reflects the natural world. Textured wooden blocks from three varieties of trees adorn the walls and ceiling. The Rockwell Group, headed by David Rockwell, designed the hotel with many naturally occurring materials and a distinctive Japanese flair. Rock, wood and paper are commonly used materials, such as the folded paper lights in the large restaurant. They hover like clouds over the tables and comfortable booths.
The Nobu Restaurant in Las Vegas is the largest in the world covering almost 13,000 square feet of space. Over 300 guests can relax at any number of tables and booths and enjoy the culinary expertise of Chef Nobu. A separate suchi bar and teppanyaki tables are also available. The bar has 15 comfortable seats and the nearby lounge offers more intimate experiences, including three semi-private booths with floor to ceiling screens.
Chef Nobu created some of the most impressive Japanese-style dishes for his hotel. Some specialties include rock shrimp tempura, black cod with miso, yellowtail sashimi and jalapeno and squid pasta dishes. A vast selection of seafood, steak and chicken are offered.
Twenty-four hour room service is also available with a unique collection of sushi and bento boxes perfect for a Japanese-style breakfast.
After dinner and visiting any of Las Vegas's main attractions, or gambling in Ceasar's Palace, guests can look forward to the ultimate in comfort and personal service in one of the 163 hotel rooms and 18 luxury suites the Nobu Hotel has to offer. Rooms offer king or queen sized beds covered with the softest Italian linens. Wash away the cares of the day in oversize showers designed with stone tiling, teak seats and multiple sprays. Natura Bisse developed a line of luxury body care products just for the Nobu Hotel. Their delicate rosemary and white tea fragrance is sure to please.
The décor of the hotel rooms carries the natural theme of the rest of the hotel over with sleek wood and Japanese accents. The furniture is simple, yet elegant and supremely comfortable. Splashes of gold, red, purple and teal add sparks of color to the rooms. Cherry blossoms, Asian-style calligraphy and other artwork add to the style.
Besides all the luxurious surroundings, comfortable amenities and delicious food, Nobu Hotel offers the best in personal service. Guests are greeted with a unique green tea specially crafted by Chef Nobu. An evening tea service complete with macaroons is offered during the turn down service in your room.
Even if you spend your nights at Caesar's Palace hotel, you can enjoy VIP treatment at Nobu's restaurants, in-room spa treatments, entry to Qua Baths & Spa and the fitness center as well as access to the Pure Nightclub for partying after hours.
Nobu Hotel at Caesars Palace Las Vegas Details:
Address: 3570 Las Vegas Boulevard South Las Vegas, NV, 89109, United States of America.
Total number of rooms: 181 rooms.
Entertainment: None, however a number of live performances are available at Caesars Palace, such as Celine Dion, Shania Twain, Absinthe show and The Gossy Room.
Food and Drinks: World's largest Nobu Restaurant and Lounge.
Clubbing: The bar at Nobu Restaurant and Lounge, also VIP access to PURE Nightclub at Caesars Palace.
Gambling: None, however Caesars Palace Casino is just around the corner.
Sportsbook: None, but Caesars Palace has a fully-equipped, 250-seat sportsbook.
Resort Attractions: Fall of Atlantis show inside The Forum Shops at Caesars.
Shopping: The Forum Shops at Caesars (over 160 shops and restaurants), also the Appian Way hallway has a number of retail outlets available.
Health & Fitness: Free access to the fitness center in Qua Baths & Spa at Caesars Palace.
Pool: The Garden of Gods pool complex at Caesars Palace.
Spa: Qua Baths & Spa at Caesars Palace is a 50,000 square-foot full-service salon with numerous types of massages and spa treatments.
Weddings: The Chapel at Caesars Palace offers a number of weddings packages.
Business Center: Not available.
Conference Rooms: Not available.
Car Park: 5-story garage parking at Caesars Palace.
Wheelchair Access: Yes.
Nobu Hotel at Caesars Palace Las Vegas Photo Gallery: