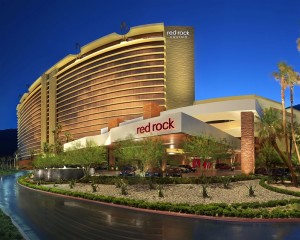 The perfect combination of nature and nightlife can be found by visiting the Red Rock Casino in northwest Las Vegas. The resort is located close to the stunning Red Rock Canyon, yet is also close enough to the Strip for the neon to be visible when darkness falls.
The Red Rock embraces its setting by delivering an architectural design that is desert-inspired. The hotel is home to 800 rooms and features beautiful materials like crystals and sandstone throughout, as well as some breath-taking water elements.
The Red Rock Casino is a welcome departure from the overblown hotel experience, with charm and customer service all part of the package. The rooms have plenty of space to move around in, and come with a host of great amenities. There is the comfort of soft bedding, the entertainment of a 42-inch flat screen TV and Bose Wave radio, not to mention a minibar that is fully loaded with a ton of treats.
Step into the bathroom of your room and you will be greeted by fine Calcutta marble, as well as a huge soaking tub. There is also a TV in there, and if you move up to the presidential and villa suites, even more luxury awaits. Take a look outside and you will have spectacular views no matter which way your room faces.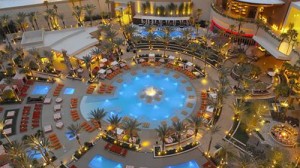 You won't want to be indoors, though, when you see the marvelous deck that the resort offers its guests.
The Sandbar Pool is spread over 4 acres and features a massive main pool, as well as 6 other smaller ones. There are lounge beds and cabanas where you can relax, but you can also gamble and dine by the poolside. When the sun sets, the pool area is often turned into an attractive nightclubs, with concerts and other events often on tap.
Simply delicious is the only way to describe the culinary offerings at Red Rock Casino. Pasta made from scratch can be had at Terra Rossa Italian Restaurant, while sumptuous cuts of steak are what are on the menu at T-Bones Chophouse.
Great American food and an amazing selection of beers is the order of the day at the Yard House. Bagels that taste as though they were made in New York, as well as massive sandwiches, are what you can get at the Bagel Café. Old-style barbecue will make your mouth water at Lucille's Smokehouse Bar-B-Que.
The Grand Café serves a wide assortment of foods 24 hours a day, while The Feast Buffet is the place to go when you want to load up at breakfast, lunch, and dinner. The flavour-packed buffet features foods from all over the world. For a quick bite on the go, be sure to check out the food court.
What is a trip to a resort without a little bit of pampering? The Spa and salon and Red Rock offers everything you need to look and feel your very best. You will also find a wide variety of recreation programs are available, giving you the opportunity to hike, rock climb, kayak, and more. Kids are also looked after, courtesy of an indoor recreation area where they can have fun and learn a little in the process.
There are big changes under way at the Red Rock, including the construction of a restaurant row and pedestrian walkway that will serve as a link to The 1.6-million square foot Shops at Summerlin.
There are a ton of great amenities on offer at the resort, including a 16-screen movie theater and a72-lane bowling alley hat is equipped with state of the art audio and lighting. As well as being able to throw strikes, you can also get into the party mood when the strobe light and fog effects get put into action.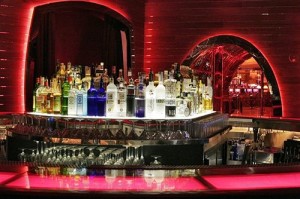 If you are looking for a little live entertainment, you will find all you need at Rocks Lounge and Onyx Bar, where bands like Zowie Bowie and Elvis Monroe are regulars. You can also grab a cool cocktail ay the Lucky Bar and Cabana Club.
There is plenty of excitement to be found on the Red Rock Casino floor, where you will discover over 3,000 of the latest slots and video poker machines. Table games and a high-limit room are also available, as is a 206-seat race and sports book. There is also a keno lounge, smoke-free poker room, and a bingo hall.
If you feel that you want to spread out a little and go do some exploring, the excitement of the Vegas Strip is a mere 20-minute drive away.
The Red Rock Casino is proof positive that you don't have to be in the heart of the Strip to have an exciting Las Vegas experience. All that you need for the perfect vacation can be found at Red Rock.
Red Rock Casino Resort Las Vegas Details:
Address: 11011 W Charleston Blvd Las Vegas, NV, 89135, United States of America.
Total number of rooms: 816 rooms, including suites.
Entertainment: Sandbar Pool Backyard venues, Rocks Lounge and a cinema (16 screens).
Food and Drinks: Lucille's Smokehouse Bar-B-Que, Terra Rossa Italian Restaurant, Feast Buffet, Yard House, T-Bones Chophouse, Grand Café, Sandbar Poolside Cafe and the food court.
Clubbing: Rocks Lounge, Onyx Bar and Lucky Bar.
Gambling: Red Rock Casino features 87,000 square-foot gaming area, including 3000 slot and video poker machines, 60 table games, keno lounge, a poker room and a bingo room with 600 seats.
Sportsbook: Over 250 TVs, 96×18 wall screen and 206 seats.
Resort Attractions: A bowling center and Red Rock Lanes.
Shopping: Available.
Health & Fitness: A fitness room.
Pool: The Pool Complex at Red Rock Resort features private cabanas, bars and a poolside cafe.
Spa: The Spa and Salon at Red Rock offers various types of treatment, there's a full service salon, a boxing ring, a fitness center and a lap pool.
Weddings: Weddings can be organized.
Business Center: Yes.
Conference Rooms: A total of 94,000 square-foot of meetings space hosting up to 1,500 guests.
Car Park: Garage parking.
Wheelchair Access: Yes.
Red Rock Casino Resort Las Vegas Photo Gallery:
More Las Vegas Hotels You Might Like