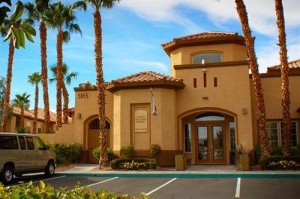 Desert Paradise is an excellent affordable resort located less than 2 miles west of the Strip on Decatur Boulevard, which provides comfortable accommodation at reasonable prices.
You have a choice between 1 or 2 bedroom condos. Both come with a king-size bed and you'll also find a sofa bed in the living room included as well. The kitchen has all the equipment you can think of, including a fridge, a blender, a microwave, a dishwasher, dishes, and a washing machine, which makes it easy to keep your clothes clean all the time.
The pool at Desert Paradise is available all-year round and there's a hot tub as well. The 24-hour fitness center gives the convenience of being able to work out at any time of the day, meaning whenever you feel that you need to burn some calories, then it's always available.
The hotel's staff is very friendly and helpful. If you require any help with bookings or reservations for shows/attractions or need any help with locations of shopping venues, local gatherings – they are there to assist you with anything you want.
To catch up with all your business needs, there's a 24-hour Internet access room, so feel free to pop in to check your email, read the latest news or simply browse the web.
If you can't stand the crowded hotels of the Strip and want something more relaxing, yet without distancing yourself too far from the heart of Las Vegas, then Desert Paradise might be exactly what you need.
Desert Paradise Resort Las Vegas Details:
Address: 5165 S Decatur Blvd Las Vegas, NV, 89118, United States of America.
Total number of rooms: 148 rooms.
Entertainment: None at the resort, however The Orleans hotel offers multiple shows and it's only a few minutes walk.
Food and Drinks: None at the resort, however a number of restaurants are available locally, such as O'Aces Bar & Grill.
Clubbing: Not available.
Gambling: Not available.
Sportsbook: Not available.
Resort Attractions: None.
Shopping: No shops at the resort.
Health & Fitness: 24-hour fitness center.
Pool: Pool at Desert Paradise and a hot tub.
Spa: None at the resort, however The Orleans offers spa services.
Weddings: No wedding services.
Business Center: None.
Conference Rooms: Not available.
Car Park: Free parking lots provided.
Wheelchair Access: Yes.
Desert Paradise Resort Las Vegas Photo Gallery: