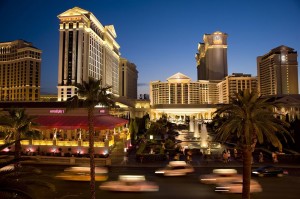 The Romans were people that loved to surround themselves with luxurious things, so it's no real surprise that Caesars Palace on the Las Vegas Strip would mirror that. As older hotels are torn down and replaced, Caesars continues to thrive, wowing visitors to Vegas since 1966. There is always a party going on inside Caesars, which is home to some of the hottest venues in town. Pure nightclub and the Shadow bar, where silhouetted dancers titillate the patrons, play to the younger crowds, while visitors of all ages can get their groove on aboard Cleopatra's Barge, where live music is almost always on.
If you are seeking something a little quieter, why not grab a cocktail at the Seahorse Lounge, where sea creatures do the dancing in a massive aquarium. A little more on the upscale side of things is Fizz Las Vegas lounge and bar. The brainchild of Elton John's partner David Furnish, Fizz is a champagne soaked delighted with great food also available.
Great entertainment by big name stars is also available at Caesars Palace. Shania Twain and Celine Dion are just two of the acts that you can expect to see performs at the spectacular 4,100-seat Colosseum.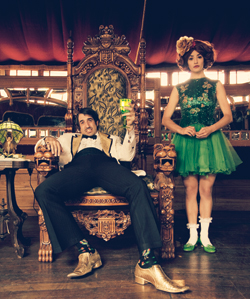 If you are looking for something a little different, you need to check out "Absinthe," an over the top, circus-style show led by an outlandish ringmaster named The Gazillionaire. You can also take a trip back to the Rat-Pack era by visiting the Gossy Room at Cleopatra's Barge. There you will hear singer-songwriter Mat Goss perform songs from that storied time, with his 9-pieve band and The Dirty Virgin Dancers keeping him company.
Caesars has always been the place to go for fine dining, witnessed by the fact that the Forum Shops were the home to the first celebrity chef restaurant in the city; Wolfgang Puck at Spago. Bobby Flay has now joined in on the act with his southwestern style Mesa Grill. Michel Richard, a James Beard award recipient, is the man behind Central, a slightly upscale casual dining experience where food is served both indoors and out. For a little Italian-inspired food, you should also check out Rao's.
A group of top-class chefs were responsible for the creations of the massive Bacchanal Buffet. A fantastic menu of British food, such as fish and chips and shepherd's pie, can be found at The Gordon Ramsay Pub & Grill. The fiery chef promises not to yell at you, as long as you try at least one of the 36 beers on tap.
A little taste of New York can be had by visiting The Old Homestead Steakhouse. The slabs on meat being offered are almost as big as the square footage of the casino, and there are also giant lobsters available for those that like a little surf with their turf. No meal is complete without a selection from their incredible wine list.
Another East Coast favorite that has made the cross country trip is Serendipity 3. You simply cannot leave without trying one of their legendary Frozen Hot Chocolate, or any of their other 20 delicious chocolaty treats.
Many would argue that French cuisine is the best in the world, and you can judge for yourself by enjoying a bite to eat at the Payard Pâtisserie & Bistro. The location is also home to a chocolate shop and crepe station. Make sure to take a trip back later in the evening when the shop re-opens to allow patrons a little sample of their dessert menu.
Chocolate isn't the only thing you can shop for at Caesars, though, as The Forum Shops are home to some of the best known retailers in the world. All told, 160 different locations can be found, including 15 high-end stores in the Appian Way Shops.
You can't possibly go to Vegas without having a little wager. The casino and sports book at Caesars is among the best on the strip. A great place to roll the dice or watch all the best sporting action live on the huge screens that abound.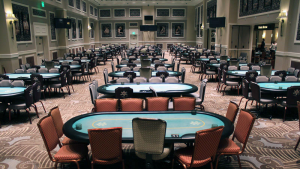 In a secluded spot off the main casino floor sits the private poker room, the largest of its kind in Vegas at a whopping 14,000 square feet. There are 29 tables in the main area of the no-smoking room. The walls of the space are adorned with the iconic art of LeRoy Neiman, as well as a number of great shots featuring famous moments in sports history. This is a spot where the high rollers come to play, as they are treated like Roman royalty, with massages and tableside food service just a couple of the benefits of playing in that room.
You'll understand why Caesars is referred to as a Palace when you get a look at the accommodations. They are simply among the best on offer on the Vegas Strip, with the Augustus and Octavius towers combining to deliver around 1,500 rooms that take elegance to a whole new level.
All of the floor plans offer plenty of room to move, while plus linens and pillow-top mattresses make you sleep time incredibly comfortable. Take advantage of the unique hotel app that allows you to talk to the concierge directly.
For something truly different, try the incredible hotel within a hotel experience that is the Nobu Hotel found inside Caesars. This is a boutique hotel that is the true epitome of simply luxury. Nobu features 181 rooms, including 18 absolutely breathtaking suites.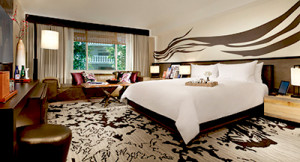 Nobu Hotel is where the East meets the West, with sumptuous comfort accompanies by Eastern traditions like a welcome tea service. Every single detail is designed to please, and while you will find it hard to pull yourself away from the room, you absolutely have to so that you can visit the world's largest Nobu Restaurant and Lounge.
Caesars Palace is always being upgraded to better serve guests, with a ballroom facility and five new swimming pools among the latest additions. The aforementioned Rao's restaurant is also new.
One of the great highlights of Rao's is that is has been designed to resemble Jefferson park in New York, with a stunning fountain part of the display. There is also a common area there, where patrons can go to chill out for a little while with a cup of hot coffee and the daily newspaper, safe in the knowledge that they are never too far from the action.
If you go through the lobby towards the Augustus Tower, you will find a host of entertainment delights, including a pair of VIP lounges, a restaurant owned by famed French chef Guy Savoy, a trio of wedding chapels, and the Qua Baths and Spa.
It would be easy to go on and on about what Caesars Palace has on offer for its guests, but the fact that it still stands majestic after so many years is living proof that some parts of Rome have not yet fallen.
Caesars Palace Las Vegas Details:
Address: 3570 Las Vegas Boulevard South Las Vegas, NV, 89109, United States of America.
Total number of rooms: The resort has 5 towers named Forum, Roman, Augustus, Palace and Octavius, totaling 3960 rooms. Nobu Hotel which is part of Caesars Palace has 181 rooms.
Entertainment: Celine Dion and Shania Twain performing at The Colosseum, circus show called "Absinthe" and a British signer Matt Goss singing at Cleopatra's Barge in The Gossy Room.
Food and Drinks: Empress Court, Bacchanal Buffet, Munch, Beijing Noddle #9, Guy Savoy, Central Michel Richard, Mesa Grill, Cypress Street Marketplace, Payard Patisserie & Bistro, Nobu Restaurant & Lounge, Gordon Ramsay Pub & Grill, Old Homestead Steakhouse, Serendipity 3 and Rao's. Additional restaurants at The Forum Shops at Caesars include Planet Holywood, Trevi, Spago, La Salsa, The Cheesecake Factory, Max Brenner, II Mulino, Chocolate by A Bald Man The Palm, Sushi Roku, Joe's Seafood, Carmine's, Prime Steak & Stone Crab and Cafe Della Spiga.
Clubbing: Fizz Las Vegas, Pure nightclub, Shadow Bar, Numb Bar & Frozen Cocktails, Cleopatra's Barge, Nobu Lounge, The Galleria Bar, Seahorse Lounge and Apostrophe Bar.
Gambling: Casino area of 129,000 square feet. Casino games include Poker, Roulette, Blackjack, Let It Ride, Craps, Keno and many others.
Sportsbook: 12 TVs and 6 big screens along with 250 seats.
Resort Attractions: The Fall of Atlantis and Aquarium at The Forum Shops.
Shopping: The Forum Shops at Caesars (over 150 shops), The Appian Way Shops (over 15 stores).
Health & Fitness: State of the art health club with an amazing view of the Strip.
Pool: Garden of the Gods pool, featuring 8 pools.
Spa: Qua Baths & Spa totalling 50,000 square foot, offering a huge variety services and the salon by Michael Boychuck called "Color".
Weddings: Chapels at Caesars Palace.
Business Center: A full business center.
Conference Rooms: Colosseum Ballroom, Caesars Ballroom and Palace Tower (110,000 square feet).
Car Park: 5-story garage parking.
Wheelchair Access: Yes.
Caesars Palace Las Vegas Photo Gallery:
More Las Vegas Hotels You Might Like