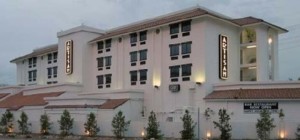 The Artisan Hotel Boutique in Las Vegas is an adults-only getaway located just 2 miles away from the world famous Las Vegas Strip. It's decorated in a gothic-style with beautiful sculptures filling the lobby and numerous other areas of the hotel. Art paintings are presented throughout the resort creating a very rich feeling and an unforgettable experience.
The exterior of the hotel is dominated in minimalistic black and white colors, while the interior is a pretty luxurious place to be. Everything starts with the porte cochere with free valet parking surrounded by awnings and curtains, making you feel like you're in a cabana. You leave your car there and begin to really indulge yourself in this wonderful resort.
Artisan Boutique is full of paintings from famous artists, such as Leonardo da Vinci, Pablo Picasso, Vincent Van Gogh and many others. Wherever you go, you will find these amazing pictures hanging on the walls, ceilings, in the hallways, the lounge, and all of these sometimes make you think you're visiting an art-gallery. The fine furniture and wood décor deserve a special attention, as you would struggle to find another Vegas hotel in this price range offering such an atmosphere.
There is one restaurant available at the hotel called Mood. The concierge is there to help you to arrange any bookings for shows/tours around the area. The hotel's rooms are presented in dark elegant colors, where on top of basic amenities, you also get a flatscreen TV and a docking station for your iPad.
Artisan Hotel Boutique has the Naked topless pool, which is for 21's and over, and it's surrounded by a number of comfy queen beds as well as private cabanas along with swaying palm trees. The pool comes alive during Las Vegas nights when local DJs join the party with their magical beats.
To get a drink and have a chat at the bar, visit the Artisan Lounge, which is open 24 hours, 7 days a week. It was voted as one of the best after-hours lounges in Vegas, so you're bound to have a great time, especially during the weekend when Artisan Nightlife kicks in.
Overall, Artisan Hotel Boutique offers a great mix of a quite Las Vegas holiday during the week as well as a mind-blowing hip hop experience on Fridays and Saturdays.
Artisan Hotel Boutique Details:
Address: 1501 W Sahara Ave Las Vegas, NV, 89102, United States of America.
Total number of rooms: 64 rooms
Entertainment: Live DJs in Artisan Lounge on Fridays, live jazz music on Thursdays and Saturdays.
Food and Drinks: Mood restaurant.
Clubbing: Artisan Boutique UltraLounge
Gambling: Not available.
Sportsbook: Not available.
Resort Attractions: None.
Shopping: None.
Health & Fitness: A fitness center is available.
Pool: Adults-only topless Naked pool.
Spa: Not available.
Weddings: Wedding services can be arranged.
Business Center: A computer with Internet access is available with printing/scanning/faxing facilities.
Conference Rooms: A small meetings room is available.
Car Park: Free valet parking.
Wheelchair Access: No.
Artisan Hotel Boutique Photo Gallery:
More Las Vegas Hotels You Might Like