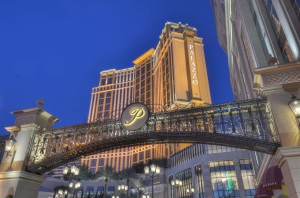 There are some hotels that go beyond luxury, which is what you have to say about the Palazzo Hotel in Las Vegas. This hotel, the sister of The Venetian, has been part of the Las Vegas skyline since construction in 2008.
The Palazzo Hotel Las Vegas has set new standards for quality and hospitality. It's also an eco-friendly resort, as it's the biggest building in the world to be LEED-certified. In the construction process, a staggering 70% of all waste materials generated were recycled to the tune of 42,000 tons. All sorts of green initiatives were put in place during construction, with everything from water and energy to the cleaning products used being taken into consideration.
The Palazzo couldn't really ask for a better location, as it sits right in the heart of the world-famous Las Vegas Strip. Some of the best views can be found on the 23rd floor, which is where the high-end Prestige Suites are located.
There is a definite feeling of welcoming warmth to be found in the suites, the smallest of which comes in at 720 square feet. The amenities delivered in each suite are the height of luxury, with Egyptian sheets, flat-screen LCD TV's, wireless internet access, DVD player, and more in every room. Some guests may find it tough to leave the bathroom of the suite, as they will find a stunning Roman tub, as well as a private shower there.
The entertainment on tap at The Palazzo is unlike anything else on the Strip, with "Panda!" being one of the highlights. The Beijing production is a stunning mix of acrobatics and martial arts featuring members of the China National Acrobatic Troupe and Shaolin Monastery Kung Fu Monks Troupe.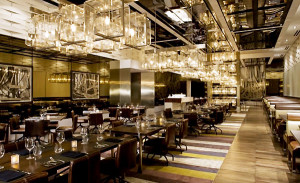 A number of celebrity chefs have restaurants in the resort, including Take Cut, the brainchild of Chef Wolfgang Puck. He delivers a steakhouse like nothing you have ever seen before, with stunning décor and a delicious menu available to all who dine there.
The Italian-themed Carnevino is where Chef Mario Batali serves up delicious dishes, all of which are paired by wines selected by Joe Bastianich of MasterChef fame. Morel's is a decidedly French take on the classic steakhouse, and is where American classics and French cuisine collide in an explosion of great flavors.
Speaking of fusion, SushiSamba delivers a menu that is an incredible mix of Brazilian and Japanese cuisine. For burgers with a bit of a toppings twist, you need to see what's on offer at I Love Burgers.
Another big name chef, Emeril Lagasse, delivers a taste of Creole cooking at Table 10, but he also has a more laid back dining and drinking experience available at the Lagasse's Stadium sports bar. The latter gives diners a chance to sample his amazing food in a sports setting, where skyboxes, stadium seating, and big-screen TV's set the tone. The bar also features a great patio that is as close to the Strip as it gets.
There are other casual culinary delights on offer at The Palazzo, starting with Grimaldi's, the home of delicious thin crust pizza. The Grand Luxe Café has an extensive menu, including sumptuous desserts, that are available all day long.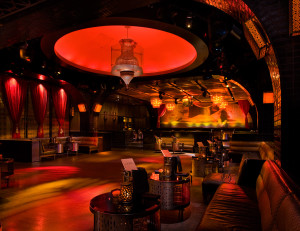 If drinks and dancing are more your speed, a visit to Lavo will be sure to satisfy. The combination of a restaurant and a nightclub delivers great food and a wide variety of cocktails. All told, Lavo occupies 20,000 square feet, which means there is more than enough space to get your groove on once the music starts to play.
Even more adult fun can be found at the Double Helix Wine & Whiskey Bar and the Fusion Latin Mixology Bar, where signature cocktails are the order of the day. Great live music can be found at the Salute Lounge, while the Laguna Champagne Bar offers a more romantic, intimate experience.
One of the high points of the Grand Canal Shoppes at The Palazzo is the inclusion of Barney's New York among the vendors. The shopping area is truly massive in scale, stretching between The Palazzo and The Venetian and including somewhere in the region of 160 different retail outlets to give your credit card a workout.
Sometimes you may feel as though you need a break from all the excitement, with the 5-acre pool offering a great way to do so. Once again, The Palazzo and The Venetian combine to deliver seven different pools in a Roman garden setting. Included in that number is the adults only Azure Pool.
The Canyon Ranch Spa Club is another great place to relax, with a sauna, steam room, and a host of relaxing treatments all available to the guests. It also houses a fitness center that is home to a 4-foot rock climbing wall.
Once you have tried all there is to offer at The Palazzo, you'll find that there is even more fun and entertainment on offer at The Venetian, which is mere steps away.
If you are looking for a truly elegant hotel in the heart of the Vegas Strip, The Palazzo is tough to beat. Luxury accommodations, great dining options, and entertainment around the clock are just a little taste of what you can expect after you check-in.
The Palazzo Las Vegas Details:
Address: 3325 Las Vegas Blvd. South Las Vegas, NV, 89109, United States of America.
Total number of rooms: 3,066 suites.
Entertainment: Panda! Chinese performance show at the Palazzo Theater.
Food and Drinks: Dal Toro, Lavo, SushiSamba, Canyon Ranch Grill, Lagasse's Stadium, Carnevino, I Love Burgers, Cut, Wolfgang Puck's Solaro, Sweet Surrender, Grand Lux Palazzo, Emeril Lagasse's Table 10, Zine, Grimaldi's, Morels, and Espressamente Illy.
Clubbing: Lavo nightclub, Laguna Champagne Bar, Salute Lounge, Double Helix Wine & Whiskey Bar, SushiSamba Lounge and Fusion Latix Mixology Bar.
Gambling: The Palazzo Casino (105,000 square-feet) features almost 2000 slot and video poker machines as well as 80 table games.
Sportsbook: Lagasse's Stadium at The Palazzo has 600 seats, more than 100 HD TV's and one large projection screen, as well as a full menu bar by Emeril Lagasse.
Resort Attractions: Palazzo Waterfall Atrium and a Lamborghini dealership.
Shopping: The Grand Canal Shoppes at The Palazzo | The Venetian is a 875,000 square-foot shopping mall, which has over 160 different shops, and also features the well-known Barneys New York.
Health & Fitness: The Palazzo features a fully-equipped 21,000 square-foot fitness center.
Pool: The Palazzo Pool is a massive combination of 7 pools shared with The Venetian across 5 acres, which also has 41 cabanas, 4 jacuzzis and a private pool club Azure.
Spa: Canyon Ranch SpaClub is a 69,000 square-foot full-service spa center with more than 80 treatment rooms, numerous types of massages, a salon and even a rock-climbing wall.
Weddings: Wedding ceremonies can be arranged at the Wedding Chapel at The Venetian.
Business Center: Available.
Conference Rooms: Almost 2 million square-feet of meetings space in total, including 1.2 million square-foot Sands Expo convention center, 650,000 square-foot Venetian Congress Center and 85,000 square-foot Venetian Ballroom.
Car Park: Underground garage parking.
Wheelchair Access: Yes.
The Palazzo Las Vegas Photo Gallery: