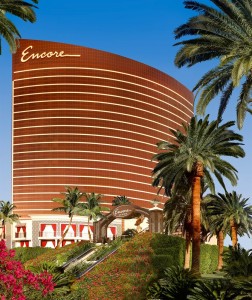 Tall and elegant are the words that tend to come to mind when you look at Encore, the next door neighbour of Wynn Las Vegas.
Located at the north end of the Strip, both buildings are the brainchild of Steve Wynn, which is always a sure sign that high-end levels of luxury and gaming await through the front doors of both resorts.
What may be surprising to many is that high-end does not have to mean stuffy, especially at the Encore. This is a place that is definitely aimed at a younger, hipper crowd, with high-energy music radiating throughout the building.
As part of the Wynn Las Vegas, Encore guests have the benefit of the amazing amenities that are found there: an 18-hole championship golf course, incredible dining, and a number of restaurants that offer a wide array of delicious delicacies.
It doesn't matter which part of Encore you visit, it's obvious that no expense has been spared in creating an exquisitely styled space. Look up when you walk through the casino and you will be amazed by the ruby red chandeliers hanging overhead. Each of the 130 chandeliers was made at a cost of $150,000 each, with hand-blown Italian glass used to create the truly stunning look. A number of other pieces, all of which are symbols of luck, are placed throughout the hotel, giving a real gallery feel to Encore. The entrance to the hotel is naturally lit, with an elaborate 40,000 square foot atrium one of the first things you see when you step inside.
Like all Vegas hotels, Encore delivers a ton of entertainment options for its guests. That includes "La Reve – The Dream," which is an amazing aqua production that takes place in the nearby Wynn Theatre.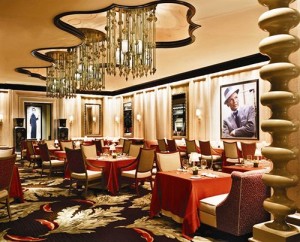 The Wynn Las Vegas has become known at THE place to go in town for their buffet and large scale restaurants, but Encore is carving out its own culinary niche. Intimacy is very much the name of the game with the Encore restaurants, starting with a little taste of Italy at Chef Theo Schoenegger's Sinatra, which has the distinction of being the only Sinatra family approved restaurant in the world.
Wazuzu is the place to go for delicious Pan-Asian creations, and you should also prepare to be wowed by the 27-foot long Swarovski crystal dragon that watches you while you eat. If steak is your food of choice, you have to try Chef Mark LoRusso's culinary creations at Botero.
With good food in your belly, you will probably be ready to get you party face on, with XS nightclub a good place to start. The sprawling space takes the part out to the pool, with a pulsating atmosphere to be found in every inch of the indoor/outdoor club space. This is another spot that has a massive chandelier as a focal point. The big highlight of XS, though has to be their signature Ono cocktail. Be prepared to shell over $10,000 to get your drink on for that special cocktail, although it does come with XS-logo cufflinks and a black pearl pendant as part of the deal.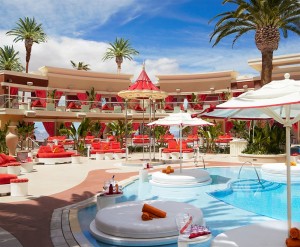 Another great party experience can be found at Encore Beach Club and Surrender. The highlight of the day party experience are the luxurious cabanas that sit poolside. You can also lounge on giant lily pads by the pool between refreshing dips.
The laid back setting turns a whole lot more exciting when the sun goes down, with the entire space turned into Surrender. The hottest DJ's in Vegas entertain guests with great music that go-go dancers groove along to.
If you would like to grab a martini, you need to visit VDKA at Encore, as it is home to over 150 different flavored vodka's. For a combination dining and nightclub experience, you need to check out Andrea's. It is home to contemporary Asian cuisine served up by Chef Joseph Elevado, backed by the sound produced by musical chef DJ Steve Angelo.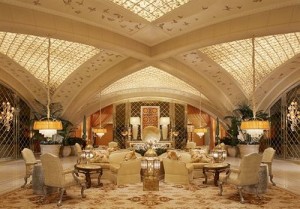 One of the best places to relax on the Vegas Strip can be found inside the Encore Spa. The beautifully designed space is the epitome of tranquility and comfort. It is also home to a full service salon, complete with luxurious pedicure chairs that have a view of the Strip. Shoppers will love all the high-end designer boutiques at Encore, while those who are in town for business will appreciate all the amenities available to them in the Business Services Center. Those include private internet suites, fax machines, courier services, and everything that the business man or woman would ever need.
Each of the suites at Encore are decorated with art and custom furniture, and are actually a little more spacious than those available at Wynn Las Vegas. One of the highlights of the suites are the floor to ceiling windows that offer a wonderful view on the world below. The amenities that come in each space are designed for comfort and convenience, from the pillow top beds, to the mood lighting that can be controlled from a single spot.
The casino at Encore has a distinctly private feel, with draperies and columns placed in a way that helps create that feeling. Big money players looking to make a splash at Encore can do so in the high limit area, as well as in the Sky Casino, which is home to the $300,000 minimum bet.
The unique sense of style and attention to customer service sets Encore apart from just about every other hotel on the Las Vegas Strip.
Encore at Wynn Las Vegas Details:
Address: 3121 Las Vegas Blvd Las Vegas, NV, 89109, United States of America.
Total number of rooms: 2,034 rooms.
Entertainment: "Le Reve – The Dream" at Wynn Las Vegas.
Food and Drinks: Premium Italian restaurant Sinatra by Chef Theo Schoenegger, Botero steakhouse by Chef Mark LaRusso, Wazuzu cafe, Society Cafe by Chef Bryan Forgione and Andrea's.
Clubbing: XS nightclub (one of the largest in Vegas) and Surrender Nightclub. Numerous bars are also available, including Southside Bar, Botero Bar, Lobby Bar and Cafe, Eastside Lounge and VDKA.
Gambling: A casino area of 111,000 square foot.
Sportsbook: None at Encore, however Wyyn Las Vegas has a sportsbook with almost 200 seats.
Resort Attractions: Art decorations throughout the resort, Wynn Golf Course and Penske Ferrari Maserati dealership.
Shopping: Esplanade at Encore offers a number of luxury boutiques, such as Chanel, Hermes and many others.
Health & Fitness: Available.
Pool: The Pool at Encore.
Spa: The Spa at Encore.
Weddings: Wedding can be organized.
Business Center: Available.
Conference Rooms: A meeting space of 60,000 square feet.
Car Park: Garage parking and valet service.
Wheelchair Access: Yes.
Encore at Wynn Las Vegas Photo Gallery:
More Las Vegas Hotels You Might Like