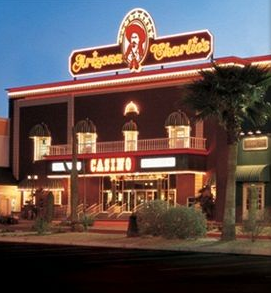 Due to Arizona Charlie's Decatur location, being off the Las Vegas Strip and quite far from downtown, it's not a popular choice for tourists and it's better known by the locals. It's near I-95, just off S. Decatur Blvd.
It's a pretty compact, Wild West-style hotel with 258 rooms. Without a doubt, it offers great value for money, so if you're on a tight budget, then this resort is an excellent choice. Whether you're just with your partner or the whole family is around, Arizona Charlie's Decatur budget apartments won't disappoint.
There are free car parking lots offered at the hotel, however no garages are available. You get all the basic amenities with your room, such as TV, ironing equipment and air conditioning. As you would expect, the rooms are tidy and a cosy place to be.
Arizona Charlie's Decatur keeps up well in the casino department as well. The gaming room is beautifully decorated with chandeliers, the ceiling is made out of carved wood and the general gambling atmosphere is terrific.
Non smokers will be pleased to find out that there's a smoke-free enclosed casino room, so use it if you can't stand the smell of cigarettes. The resort has over 1000 slot and poker video machines as well as a wonderful bingo parlor with 300 seats. There are a number of sessions held during the day, so don't miss the chance to try your luck. For sports betting, there's a pretty big sportsbook with 33 TVs and 5 big screens, seating up to 95 guests.
A couple of dining venues are available at Arizona Charlie's Decatur, the main one being Ron's Steakhouse. The name is inspired by the former Las Vegas mayor Ron Lurie and its menu will satisfy even the pickiest eaters. It's decorated in a contemporary style and, as you would guess from the name, it specializes in meat dishes, so you can be sure no one will be left hungry.
Sourdough Café is good for regular breakfast and lunch. Being open 24 hours, it's an excellent any-time eatery with a simple everyday menu to keep you on the go. You also have the Frisco Market Buffet, which is as good as buffets get around here, and if you're in a hurry then grab a fine pizza at Noble Roman's. Subway is also near, so if you're after something quick and healthy, then pop into there for a bite.
The dance floor is busy featuring Naughty Ladies Saloon with live music and if you're craving for a cocktail, then check out either the Elbow Creek Bar or Jake's Bar, where you'll find great drinks at affordable prices.
Other hotel amenities include an outdoor pool and a Jacuzzi. There's a conference room that can host up to 300 guests, so business matters are taken care of as well. To buy something for your loved ones back home, check out the gifts shop at the resort for souvenirs and other stuff.
While Arizona Charlie's Decatur is not exactly huge in size, however it has everything you would expect from a mid-range Vegas hotel, so you will definitely enjoy your stay here and have a lot of fun.
Arizona Charlie's Decatur Details:
Address: 740 S. Decatur Boulevard Las Vegas, NV, 89107, United States of America
Total number of rooms: 258 rooms.
Entertainment: Naughty Ladies Saloon live music.
Food and Drinks: Sourdough Cafe, Ron's Steakhouse, Noble Roman's, Frisco Market Buffet and Subway.
Clubbing: Two bars are available – Elbow Creek Bar and Jake's Bar.
Gambling: Over 1000 slot and video poker machines, various table games, a poker room, bingo parlor and a special non-smoking gaming room.
Sportsbook: 33 TVs with 5 big screens and 95 seats.
Resort Attractions: Little arcade for kids.
Shopping: A gift shop is available.
Health & Fitness: Not available.
Pool: An outdoor pool and a Jacuzzi.
Spa: Not available.
Weddings: No wedding services.
Business Center: None.
Conference Rooms: Diamond Mae's Ballroom is 4500 square foot in size and can host up to 300 people.
Car Park: Free parking lots are available.
Wheelchair Access: Yes.
Arizona Charlie's Decatur Photo Gallery:
More Las Vegas Hotels You Might Like