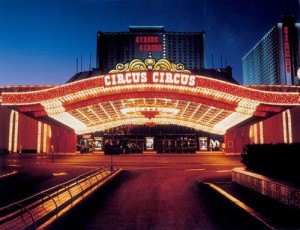 You don't tend to think of Las Vegas as a destination spot for children, but there are hotels that understand families may well make the trip there. If you are looking for a fun place to stay in Las Vegas where the kids will be happy too, look no further than Circus Circus.
Why will kids love Circus Circus Hotel in Las Vegas so much? There are many reasons, but none more exciting than The Adventuredome, a theme park housed over 5-acres in a climate controlled glass dome. It's as cool as it sounds, with 25 amazing ride, including the gut-wrenching Canyon Blaster double-loop roller coaster.
That's just the start of the thrills, though, with a runaway train named Miner Mike, and old school Thunderbirds aircraft also included in the mix. Everyone will love the virtual reality rides based on popular characters, with the SpongeBob SquarePants 4-D and Happy Feet: Mumble's Wild Ride 4-D fun ready to take you on adventures that touch all the senses. If you want real thrills, though, we dare you to try out EL Loco, the newest ride in Adventureland that will take you on dips and drops that will have you screaming for the full 72 seconds.
It's not all about the little ones at Circus Circus, though, as there is also plenty of adult entertainment on tap. The Skyrise Casino is home to slots of all monetary denominations, while the main casino floor has a full race and sports book, as well as 40 table games. There are even free lessons available for those that are new to world of casino gaming.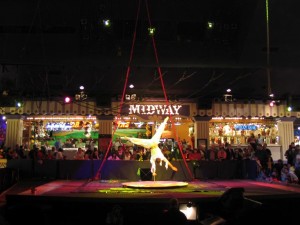 Take a stroll up to the Circus Circus Midway and try your hand at the more than 200 carnival games on display there. You will also find entertainment there, too, as the Midway Stage is where performers of all shapes, sizes, and skills come to show off their talents. It's an all-day event, with a new show hitting the stage every half hour from early afternoon until late at night.
You will want to make sure that you keep your wits about you at Circus Circus, or you may just fall prey to a pranks played by one of the clowns that circulate the property. The clowns have become a feature attraction entertaining the guests in places other than the stage.
Don't be surprised to see one pop up in the gift shop or as you are strolling through the lobby. The clowns do much more than just entertain, though, as they will be happy to answer any questions that you may have about the hotel and its facilities.
There are plenty of great eating spots to be found at Circus Circus, whether you just want a quick snack or of you are more in the mood for a feast. All you can eat lovers will get a kick out of the Circus Buffet, while The Steak House has cuts of meat to suit all tastes and appetite sizes.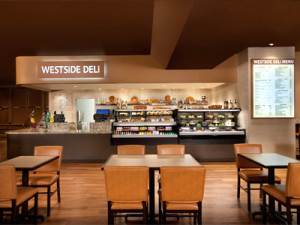 American classics can be found at The Garden Grill, while the Pizzeria is home to pizzas with every topping you could ever imagine. If you want something quick to take with you, grab a sandwich at the Westside Deli, or a sugary snack at Krispy Kreme Doughnuts. You can also get your caffeine fix at the Cup of Joe barista.
If you are looking for a unique place to grab a bite to eat, you need to check out the snack bar located in the Midway, which has been designed to look like a carousel. Circus Circus is a great place to party, and there may be no better place to do that than at one of Vince Neil's spots.
The Motley Crue legend has the Tatuado Eat-Drink-Party, where you can grab a delicious burger of burrito. For something a little more risqué, head upstairs to Vince Neal's Party Bus, where flair bartenders are waiting to pour you some incredibly creative cocktails.
Other amenities on offer at Circus Circus include relaxing pools, the Alexandra Noel Beauty Salon, and gift shops that sell everything under the sun. If romance is on the cards during your trip, you always have the option of getting hitched at the Chapel of the Fountain.
There are a number of different room options available, from standard singles to spacious suites, all of which are beautifully appointed.
If you want something a little more traditional, book your stay at the Circus Circus Manor, which has a definite motor-lodge look and feel. If you want to rough it, book a spot at the KOA Circusland RV Park. It really can't be described as roughing it, though, as the 23-acre park is jam packed with a ton of amenities.
If you are looking for an affordable pace to stay during your family trip to Las Vegas, Circus Circus has options to suit every budget. So why not book a few days of fun and frivolity under the Big Top?
Circus Circus Las Vegas Details:
Address: 2880 Las Vegas Blvd S Las Vegas, NV, 89109, United States of America.
Total number of rooms: 3,774 rooms.
Entertainment: World's Largest Permanent Circus.
Food and Drinks: The Garden Grill, The Steakhouse, Barista, Pizzeria, Circus Buffet, McDonald's, Pizzeria, Blue Iguana Mexican Express, Vince Neil's, Westside Deli and Krispy Kreme Doughnuts.
Clubbing: Vince Neil's Party Bar.
Gambling: Casino area of 107,500 square feet, including various games, such as Craps, Caribbean Stud Poker, Blackjack, Roulette, Slots and others.
Sportsbook: 18 large screens, 68 TVs and 80 seats.
Resort Attractions: The Adventuredome features a number of attractions, including Chaos, Inverter, 4D Special Theater, Disk 'O and many others.
Shopping: A shopping center of 40,000 square foot with 20 retail units.
Health & Fitness: A fitness club is available.
Pool: 2 pools and a Jacuzzi.
Spa: Alexandra Noel salon.
Weddings: Chapel of The Fountain.
Business Center: Printing/faxing facilities are available at the reception.
Conference Rooms: Meetings space hosting up to 600 guests.
Car Park: 3 multi-story garages offered for parking.
Wheelchair Access: Yes.
Circus Circus Las Vegas Photo Gallery: