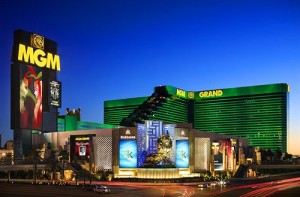 The corner of Las Vegas Boulevard and Tropicana is one of the busiest intersections in Las Vegas, so it's probably a good thing that a giant lion is there to stand guard. That mighty beast stands at the entrance to the MGM Grand, a Vegas institution that never seems to grow old. In fact, the hotel recently received a massive makeover so that it could continue to be one of the top destinations in the entertainment capital of the world.
The MGM Grand is definitely the place to be if you are looking for the best in entertainment. Inside the resort you will find the cavernous 16,000-seat Grand Garden Arena, where some of the biggest names in the entertainment world come to play their trade. The magic of David Copperfield can be seen in the more intimate, but no less glamorous, setting of the Hollywood Theatre. On the evenings when the show is dark, you will find an amazing line-up of musicians and comedians ready to take the spotlight for the night.
If it's entertainment eye candy you are in search for, you will find it with the Cirque du Soleil production "KA." It's an acrobatic display of art and theatre that you won't soon forget. For a few giggles, make sure to pay a visit to the Brad Garrett Comedy Club, where headliners come to play and deliver laughs.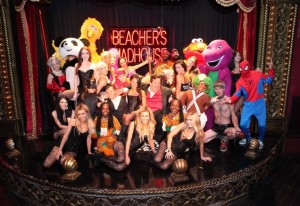 A truly unique entertainment experience can be found at Beacher's Madhouse, which is located in a massive 8,500- square-feet theatre. Choose from the daytime circus atmosphere or the after dark club experience at the venue.
There is no need to ever feel hungry at the MGM Grand, as the resort has more than 20 different restaurants to choose from. Included in that number are several different culinary experiences put together by the greatest chef's in the world.
The perfect example of that can be found at Joel Robuchon, a restaurant named after the legendary chef, who also just happens to be the only 3-star Michelin Guide winner currently operating in Vegas. His dishes are equal parts art and culinary delight, and can be sampled a la carte, or as a tasting menu. There are a pair of equally elegant dining spaces to choose from, or you can opt to go a little more casual by heading next door to L'Atelier de Joël Robuchon. It's a more casual experience, albeit with a similarly brilliant menu.
Tom Colicchio, of Top Chef fame, delivers great steak and seafood items at Craftsteak. If you are more in the mood for a classic pub fare, you need to see what's on the menu at Michael Mina Pub 1842. You can also sample a little slice of Creole by visiting Emeril's New Orleans Fish House.
The Wolfgang Puck Bar & Grill is home to a menu that can best be described as imaginative, with everything from wood-fired pizzas to delicious grilled fish on offer.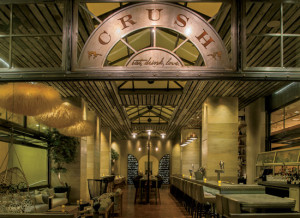 If you like sampling food of your partner's plate, you will love the shared plate menu that's available at Crush, which is operated by the famed Morton Group. For a taste of the East, you have plenty of options, including Pearl, The Grand Wok and Sushi Bar, and Shibuya. The list of great places to eat at the MGM Grand goes on and on, seemingly without end.
It's not all fine dining, though, so don't despair of you want to eat and don't feel like dressing up. A fun spot for the whole family is the Rainforest Café, serving great food in a jungle setting, with animatronic creatures watching you dine. Hecho en Vegas is a great spot for the best in Mexican cuisine.
A stunning array of food items are on display in the MGM Grand Buffet, which opens for breakfast, lunch, and dinner. Another great place to go for a great casual dining experience is the Avenue Café.
If you are in a rush and just want to grab a quick bite, be sure to stop by the MGM Grand Food Court. There are all kinds of fast food favorites to be found there, as well as three different Starbucks locations, where you can get your caffeine fix in a hurry.
With so much great food in your belly, you may need to find a place to chill and relax, and there is no better place to do that than at the 6.6-acre Grand pool Complex. The action by the poolside heats up in the summer months, when Wet Republic delivers an upscale pool experience that includes private bungalows, cocktail service, and today's hottest tunes spun by the resident DJ.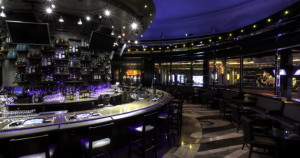 The nightlife continues indoors, with plenty of places to drink and get your groove on. If you want to hang out and enjoy the atmosphere of the resort, the Lobby Bar and Centrifuge are great places to do so. A fantastic selection of beers on tap can be found at the Tap Sports Bar, and they also have a great menu of American favorites ready to be served up hot. It's a great place to grab beer and wings while you catch all the action of the big game on the massive 60-inch HD TV's.
Hakkasan Las Vegas is a massive club that has a ton of entertainment on tap, as well as offering some amazing views of the Strip. You can dance, grab a great Cantonese-themed meal, or check out the different nightlife experiences on offer in the Ling Ling Lounge and the Ling Ling Club.
The casino floor in the MGM Grand is massive, and is home to all of the latest games. A more relaxing experience can be found at the Grand Spa, which includes a chance to experience the 2-hour pampering session that is The Dreaming Ritual. You can get a great new look a Cristophe Salon, or get in shape at the fully-equipped fitness center.
Fans of the "CSI" TV show need to get into the heart of the crime-solving action at CSI: The Experience. You can also give your opinion on potential new shows by visiting the CBS Television City research center. Make your opinion count, and have a say on which shows might make it to air next season.
There are plenty of shopping opportunities available to you in the resort, including The District, which can be found on the main level. Dig a little deeper and you will find The Underground shopping experience, as well as a host of places to buy a great souvenir throughout the hotel.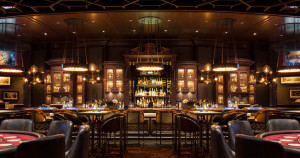 Get in on the sports action by placing a wager in the sprawling race and sports book. It is home to a comfortable seating area, as well as 17 different betting counters, so that you will always be able to get your next bet on in time. The Stage Deli, the adjacent bar, and the "skyboxes" all help add to the great experience. An upscale betting experience awaits in the Whisky Lounge with its 64-seat bar, where you are invited to sample some of the world's best spirits.
There are rooms and suites available at the MGM Grand that come in a variety of styles and price points to suit just about everyone. The remodeling that we mentioned at the start of the piece included a $160 million upgrade of the 3,570 rooms and 642 suites found in the main tower of the hotel.
No expense was spared in creating rooms that are comfortable and contemporary. All of the amenities in the rooms, including lighting, showers, shades, thermostats, and more, have been given the upgraded touch. Those guests looking to fight off jet lag and go with a healthy environment should take a look at the 42 rooms that fall under the "Stay Well" collection at the MGM Grand.
The MGM Grand has done a great job of moving forward with the times while still keeping its entertainment roots firmly planted. Guests of the resort can be sure that they will get the very best that Vegas has to offer when they stay at the MGM Grand, and as this is a resort that is always looking to get better, you can bet you will experience something new every time you visit.
MGM Las Vegas Details:
Address: 3799 Las Vegas Blvd S Las Vegas, NV, 89109, United States of America.
Total number of rooms: 5,044 rooms.
Entertainment: "KA" by Cirque du Soleil, Brad Garrett's Comedy Club, Beacher's Madhouse, and live performances at the MGM Grand Garden Arena and The Hollywood Theatre.
Food and Drinks: Tom Colicchio's Craftsteak, Michael Mina Pub 1842, Hakkasan Las Vegas, Joël Robuchon, Pearl, L'Atelier de Joël Robuchon, Emeril's New Orleans Fish House, Hecho en Vegas, Wolfgang Puck Bar & Grill, Fiamma Trattoria, Rainforest Cafe, Crush, Grand Wok and Sushi Bar, Avenue Café, Stage Deli, Shibuya, Tap, Grand Buffet and the MGM Grand Food Court.
Clubbing: Lobby Bar, Centrifuge, Hakkasan Las Vegas, Whiskey Down, Rouge, Tap Sports Bar and West Wing Bar.
Gambling: MGM Grand Casino featuring all the popular games, including blackjack, roulette, craps, keno, slots, baccarat and others.
Sportsbook: 104-seat sportsbook with over 90 TVs and 44 large screens.
Resort Attractions: CSI: The Experience.
Shopping: 115,000 square-foot MGM Grand District with the following shopping destinations: Optica, The Watch Boutique, Jeff Mitchum Gallery, Misura, The Sugar Factory, Grand Candy, Photo Magic, Davidoff, Las Vegas Harley-Davidson, KA Boutique and others.
Health & Fitness: MGM Grand Fitness Center.
Pool: MGM Grand Pool Complex (27,000 square-foot) with 5 pools, 3 jacuzzis and a long lazy river pool.
Spa: The Grand Spa and Salon offering a full range of spa services in more than 20 treatment rooms, Cristophe Salon features a full-service salon as well.
Weddings: The Forever Grand Wedding Chappel, numerous weddings packages are available.
Business Center: Available.
Conference Rooms: Grand Ballroom (62,000 square-foot), Premier Ballroom (50,000 square-foot) and Vista Ballroom (5,000 square-foot). Smaller meeting rooms are also available.
Car Park: 7-story garage parking.
Wheelchair Access: Yes.
MGM Grand Las Vegas Photo Gallery:
More Las Vegas Hotels You Might Like