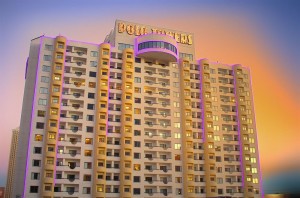 If you're travelling to Vegas, you don't necessarily have to fork out hundreds of dollars for a fancy room, when you want to get a spot on the Strip. Polo Towers Suites is an excellent choice, if you are on a budget, and yet its location is right in the middle of the Strip, so you are never too far from all the action.
Being situated on South Las Vegas Boulevard, the famous mega-resorts of Vegas are only a walking distance away from the hotel. Take a short stroll up north and enjoy the great views of the Bellagio fountains.
Just across the street you will find the Aria CityCenter, The Cosmopolitan, Monte Carlo and many others.
You would think that by offering affordable accommodation on the Strip, Polo Towers would skimp on room quality, yet the rooms are very comfortable, elegant and include amenities, such as cable LCD TV, an in-room kitchen with a large living room and a mini entertainment center, featuring an iPod docking station and a DVD/VCR player.
To top it all off, there are 2 pools at the resort, one of them being located on the rooftop, which offers amazing views of the Strip, and the other one is perfect for families with kids, as it includes a mini water park. There's a fitness room as well, so if you feel that you need a workout, then make sure to check it out.
The Logo Shop located in the lobby offers food and sundries, there are complimentary washers/dryers for the guests throughout the hotel and valet parking is also available. While Polo Towers don't have their own casino, however it's so close to local gambling spots that you have no excuse not to visit at least one of them and also have fun exploring the adventures the Strip has to offer.
Polo Towers Suites Las Vegas Details:
Address: 3745 Las Vegas Blvd S Las Vegas, NV, 89109, United States of America.
Total number of rooms: 829 rooms.
Entertainment: None.
Food and Drinks: None at site.
Clubbing: Not available.
Gambling: No casino.
Sportsbook: None.
Resort Attractions: None.
Shopping: The Logo Shop offers food and sundries, however numerous shopping malls are located nearby the hotel.
Health & Fitness: A fitness room.
Pool: 2 pools (one rooftop pool and one family water park)
Spa: In-room massage is available.
Weddings: Not available.
Business Center: Copying/faxing available in the lobby.
Conference Rooms: Not available.
Car Park: Free parking lots offered as well as valet parking.
Wheelchair Access: Yes.
Polo Towers Suites Las Vegas Photo Gallery:
More Las Vegas Hotels You Might Like