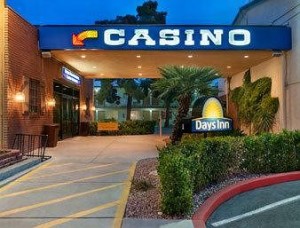 Days Inn Las Vegas at Wild Wild West is less than a mile away from the well-known Vegas Strip. It's located just off Interstate 15, very close to McCarran International Airport making it an excellent place to stay, as it's nearby to a number of local attractions and dining venues.
While the casino is not huge, however it's open 24 hours, so you can try your luck at any time of the day. The free Wi-Fi Internet of the hotel is available all day long, which makes it easy to make any bookings or reservations, so you can plan out your next day travels without leaving your hotel room.
There's an outdoor swimming pool available as well as a Jacuzzi, so you can always relax after a long day and enjoy the quite atmosphere of Days Inn.
All the hot spots of the Entertainment Capital of the World are literally around the corner. A number of shows are available in The Mirage and the luxury casino resort The Palms is also a few minutes away from your hotel room.
To satisfy your shopping cravings, check out The Fashion Show Mall, which has over 250 shops, including restaurants, so you'll be sure to find something for yourself. University of Nevada is another great place to visit, where you can tour the campus and see what it's like to study there.
Thomas & Mack Center and Sam Boyd Stadium are not too far from Days Inn Las Vegas either, so check them out to catch up with the latest games.
The on-site Denny's Restaurant, which is open 24 hours, offers excellent dining choices, however if you want something more exclusive then visit Emeril's Fish House at the MGM Grand Hotel – it's only a couple of minutes away from Days Inn Vegas.
For a special touch and an unforgettable experience, dine at the famous Eiffel Tower Restaurant and enjoy the amazing views, while having delicious food prepared by world-class chefs.
Days Inn might not have many on-site attractions, however its great location provides access to all the famous landmarks and tourist destinations, so you are still maximum close to the Strip, without spending a fortune on accommodation.
Days Inn Las Vegas at Wild Wild West Details:
Address: 3330 W Tropicana Ave Las Vegas, NV, 89103, United States of America.
Total number of rooms: 260 rooms.
Entertainment: None.
Food and Drinks: Denny's 24 hour restaurant.
Clubbing: Not available.
Gambling: 240 slot and poker machines, as well as a number of table games.
Sportsbook: 17 TVs.
Resort Attractions: None.
Shopping: A discount store is available.
Health & Fitness: None.
Pool: An outdoor pool and a Jacuzzi.
Spa: Not available.
Weddings: No wedding services offered.
Business Center: Copy/fax facilities are available on request.
Conference Rooms: Meetings and conference rooms are available.
Car Park: Free parking available.
Wheelchair Access: Yes.
Days Inn Las Vegas at Wild Wild West Photo Gallery:
More Las Vegas Hotels You Might Like