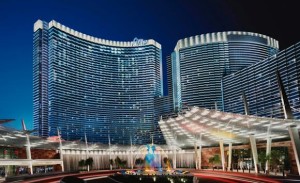 Without a doubt the Aria at CityCenter in Las Vegas is one of the top resorts located in the heart of the CityCenter urban complex and the Las Vegas Strip. Its sophisticated design is both modern and environmentally friendly.
As a matter of fact, the Aria at CityCenter in Las Vegas was awarded a prestigious "Leadership in Energy and Environmental Design Gold Certificate" by the US Green Building Council. Its truly a design masterpiece to be seen.
Nightclubs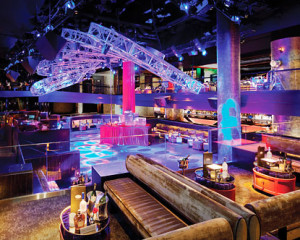 As you would expect, you're spoilt for choice as the resort is full of places to visit. If nightclubs are your thing, then the Haze Nightclub is where you want to go. It's a 25000 square foot facility, which is decorated in a plush and high-tech manner. The state of the art sound and displays won't leave you disappointed. However, the Deuce Lounge offers a more relaxed atmosphere being located off the casino floor. There you will find high-stakes gaming tables and a refined rich English club environment.
The numerous bars located nearby, such as City Bar and View Bar, will offer you delicious cocktails and other guilty pleasures. You'll also get a chance to view the "Zarkana" production by Cirque du Soleil at Aria. It's an acrobatic show presented in an abandoned theatre, where over 70 world-class acrobats, jugglers and artists perform on the grand stage of Aria Resort and Casino.
Dining Experiences A number of celebrity chefs have opened restaurants at Aria offering mouth-watering cuisine. For instance, Michael Mina from American Fish specialises in seafood sourced from America's rivers and lakes. Masa Takayama who is the head of Bar Masa has an excellent dining experience in an industrial looking interior, which is decorated by natural elements. He recently also started offering teppan dining experience called Tetsu. The award-winning chef Jean-Georges Vongerichten has got his own restaurant in Aria at CityCenter called Jean Georges Steakhouse, where meat is the core of any dish, as you've probably guessed from the restaurant's name. The finger-licking steaks are something that you have to try yourself to truly taste the difference.
Other extraordinary dining venues include Julian Serrano, the artisanal meats at Sage, as well as Sirio Ristorante with its exclusive Tuscan-style selections by Sirio and Mario Maccioni. For more of a casual snack, you should check out the Aria Café, where you'll be able to see quite amazing stacks of stones which are surrounded by frosted glass. For pizza fans, visit the FIVE50 Pizza Bar to taste one of Shawn McClain's appetizing pizzas. The Buffet at Aria is a pretty pleasant place to be as well, if you're looking for something simple and non-exotic. For a desert, head to Jean Philippe Patisserie, where you'll find chocolates in any size and form.
Pools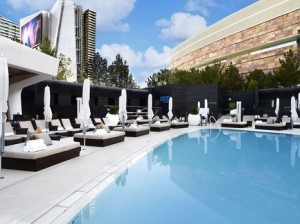 No serious Las Vegas resort is complete without a set of pools, so Aria is no exception, as it has three pools with outlandish landscaping across 215000 square foot with palm trees all around. Sunbathing is also available at Liquid Pool Lounge, which is a more party-like facility. Great music is provided by famous DJs, tasty menu from the chef Brian Massie and luxury private cabanas will deliver an unforgettable holiday.
The Spa & Salon facility is an 80000 square foot complex which offers all kinds of services during the day, starting from regular saunas and steam rooms to therapeutic messages and hydrotherapy treatments. It's spread across 2 levels, which also has an exercising studio as well. For your shopping needs, visit Terrene, which specialises in women's jewellery and apparel, while Aria Men's store is where you'll find all the men's outfits. Radiance art gallery is also worth visiting and for miscellaneous accessories have a look at Papillon.
Gambling If you want to try your luck and get yourself into some gambling action, then Aria's casinos will deliver without a doubt. There's a massive sports book with 90 screens, ranging from just 32" to as huge as 103 inches. The Aria's poker room is one of the best in the city, featuring sculptures made out of playing cards, which capture your attention the moment you walk into the gaming room. There are a total of 24 tables providing a variety of cards games and a special one-table "Ivey Room" named after a World Series of Poker champion Phil Ivey, who won the championship 7 times.
Rooms & Artwork With 4572 luxurious rooms and suites you are definitely spoilt for choice in Aria at CityCenter. The design and décor work is done in dramatic colours, using relaxing artwork and the natural light always streams through giant windows. With a touch-screen TV menu, you get to personalize your room preferences, such as curtains, lights and other things. Standard amenities also include a 42-inch LCD TV, luxury mattresses, a safe, a shower and a soaking tub.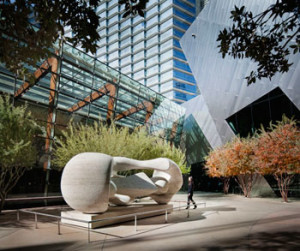 For art enthusiasts, the Aria at CityCenter is a wonderful place to be, as the resort is extensively decorated throughout with creatives from both well-known and upcoming artists. The "Silver River", which is an 84 foot sculpture made from 100% silver, replicating Colorado River can be found in the lobby and it's an outstanding work of Maya Lin, who's a New York-based artist.
Through the lobby windows you'll also be able to see Henry Moore's sculpture located in the park close to Crystals at CityCenter. It's made from Italian travertine marble and is showcasing a mother wrapping arms around her baby. A British-born artist called Tony Cragg decorated the south entrance of the resort by putting there a set of 3 stainless steel sculptures named "Bolt", "Bent of Mind" and "Untitled (Tall Column)". Overall, Aria at CityCenter Las Vegas is a very sophisticated and stylish place to be, which never fails to wow its guests by offering a world-class service in all aspects of the resort, so be sure to check it out when visiting the Entertainment Capital of the World.
Aria at CityCenter Las Vegas Details:
Address: 3730 Las Vegas Blvd. South Las Vegas, NV, 89109, United States of America
Total number of rooms: 4572 (4004 rooms and 568 suites).
Entertainment: Zarkana show by Cirque du Soleil.
Food and Drinks: A number of restaurants are available, including Julian Serrano, Jean George Steakhouse, The Buffet At Aria, Aria Cafe, Five50 Pizza Bar, Jean Philippe Patisserie, American Fish, Blossom, Bar Masa, Roasted Bean, Lemongrass, Sage, Javier's, Sirio, Tetsu and Starbucks.
Clubbing: Haze Nightclub is the main venue, other popular clubs include The Deuce Lounge, the Gold Boutique Nightclub and City Bar.
Gambling: A casino gaming floor of 150,000 square feet.
Sportsbook: A race and sportsbook is available with 100 seats.
Resort Attractions: CityCenter Fine Art Collection and 500,000 square foot shopping and dining venues.
Shopping: Crystals retail and entertainment district.
Health & Fitness: A fitness and exercising room is available.
Pool: 215,000 square foot pool deck with 3 pools and 35 private cabanas. Liquid pool is available for 21′s and over.
Spa: 2-level The Spa at Aria across 80,000 square foot.
Weddings: The Wedding Chapel at Aria.
Business Center: Available.
Conference Rooms: An area of 300,000 square foot is available for meetings and conferences, includes all the latest technology features.
Car Park: Self parking is free, however a valet service is also provided.
Wheelchair Access: Yes.
Aria at CityCenter Las Vegas Photo Gallery:
More Las Vegas Hotels You Might Like