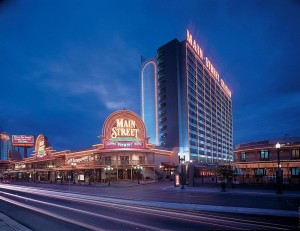 Travel back in time in the midst of Las Vegas, one of the most modern and trendy cities on Earth. The Main Street Station resort welcomes guests back to a bygone era of elegance and style. From Victorian era décor, historic trains right outside and beautiful antiques everywhere you rest your eyes, this hotel and casino caters to a clientele who appreciates the finer things in life from days past. The resort includes 400 rooms for overnight guests, a sizable casino and even a microbrewery on site.
Visitors approach the Main Street Station resort along a sidewalk lined with restored train cars from the elegant Cascade train built in 1897. A dining car, kitchen and sleeper cars can be viewed. Get a taste of the Wild West era with Pullman cars in which Buffalo Bill Cody rode. The warm lobby mimics the style of old-time train stations with its rich wood furnishing, stained glass lamps and antiques that include pipe organs, coin slots and medical cabinets.
Antique lovers should ask for a map of the resort's collection at the front desk, so they can see all the statues, paintings, furniture and decorative pieces. Part of the Berlin Wall rests in one of the men's restrooms. A boar fountain statue from Nice, France stands in the Triple 7 bar. A chandelier carefully brought over from Paris's Figaro Opera House hangs from one high ceiling. Carved bronze doors from the Royal Bank of Kuwait can be seen as well. Just walking around and viewing all the art and antiques is worth a visit.
But people do not stay at a Las Vegas resort just to see wondrous antiques and artwork. The Main Street Station offers 28,000 square feet of gambling fun. Table games share space with modern slots and video poker machines. The casino is well-lit and features many ceiling fans to create a pleasant atmosphere as you game and win.
After trying your luck at any of the exciting games or machines, hungry guests have a choice of two amazing venues that serve up many gastronomical delights. The Garden Court Buffet serves all meals, plus brunch on Saturday and Sunday, complete with a vast selection of Asian, South-western and Mexican dishes as well as pizza and delicious rotisserie chicken.
Visitors and locals flock to the Triple 7 Restaurant and Microbrewery to sample their award-winning handcrafted beer and view the copper vats where they are brewed. The Triple 7 offers casual dining at its finest with everything from Asian pot stickers and Korean short ribs to Sicilian pizza, bacon cheddar burgers and seven flavors of wings. Seafood lovers can head to the sushi corner for fresh selections.
Plenty of games and amazing food are just the start of the Main Street Station experience. Its convenient location gives guests access to the California Hotel & Casino just across the Bridge Avenue walkway. The Fremont Street Experience is just a couple of minutes walk away. The Las Vegas Premium Outlets provide plenty of opportunities to shop and save and the nearby Smith Center always offers entertaining shows.
Once you are done winning at the slot machines and sampling delicious cuisine and a glass of specialty beer, check into one of Main Street Station's guest rooms for the ultimate in comfort and style. They combine vintage style with all the modern amenities like flat screen televisions and high speed internet. Those coming to the resort for business meetings or events can enjoy the Pullman Grill or The Social Club for private comfort with catering.
Convenience, comfort and a truly unique old-time elegance combines to make Main Street Station resort an amazing destination for anyone visiting Las Vegas.
Main Street Station Hotel Las Vegas Details:
Address: 200 N Main St Las Vegas, NV, 89101, United States of America.
Total number of rooms: 406 rooms.
Entertainment: None.
Food and Drinks: Garden Court Buffet and Triple 7 BrewPub.
Clubbing: Triple 7 Microbrewery.
Gambling: Main Street Station casino (28,826 square-feet), featuring 900 slot machines, over 20 different table games as well as Megabucks and slot tournaments.
Sportsbook: None.
Resort Attractions: Numerous antique items, restored artifacts from the past, including a portion of Berlin Wall in the men's restroom.
Shopping: Main Street Station gift shop.
Health & Fitness: Not available.
Pool: Not available.
Spa: None.
Weddings: Weddings can be organized.
Business Center: None.
Conference Rooms: Pullman Grille is suitable for almost any kind of event, also The Social Club can host up to 160 guests.
Car Park: 4-story garage parking.
Wheelchair Access: Yes.
Main Street Station Hotel Las Vegas Photo Gallery:
More Las Vegas Hotels You Might Like